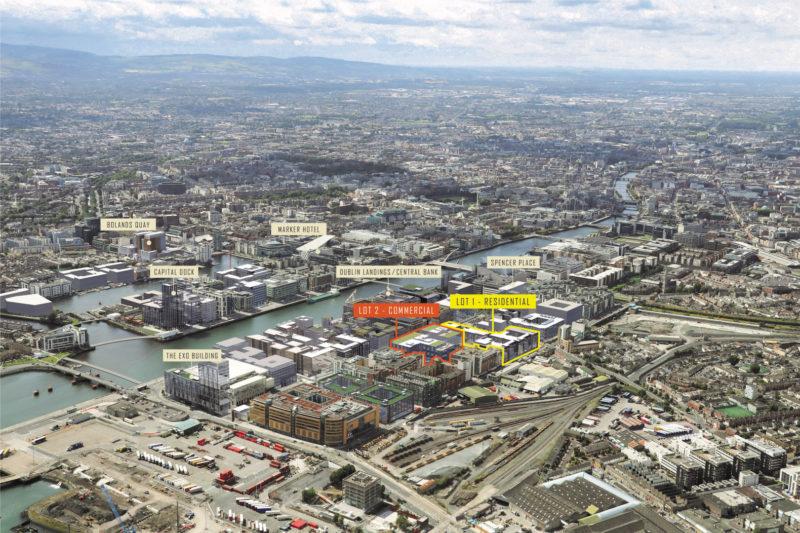 A site in the heart of Dublin's docklands has been placed on the market for sale with a guide price of €110,000,000. The guide price was set on the instruction of David Carson, statutory receiver. Savills and Cushman & Wakefield are joint selling agents of the site.
The 5.91 acre site, known as City Block 3, is one of the final remaining development sites in Dublin's Docklands and is within the Strategic Development Zone (SDZ). It is offered for sale in three lots, with a guide price of €45,000,000 for the residential site and €65,000,000 for the commercial site.
Potential buyers of CB3 Docklands will be encouraged by the performance of the market, which witnessed a threshold year in 2017, when five lettings were secured on space exceeding 100,000 sq. ft. Recent new letting activity in adjoining new blocks includes the pre-let to the NTMA of over 140,000 sq ft at Dublin Landings at a headline rent in region of €50 per sq ft on 25-year leases. There are a number of other office requirements active in the market at present.
Agents Savills and Cushman and Wakefield Ireland released a joint statement in relation to the site, stating: "CB3 Docklands represents a unique urban regeneration opportunity of scale located in the heart of Dublin, at a time of strong underlying office and residential demand. The site is one of the most prominent large-scale development sites within the City Centre, in a highly sought-after location to both live and work. This significant land bank offers the opportunity to deliver a new urban campus for the North Docklands, all within walking distance of major retail, cultural and leisure centres, while also adjoining the IFSC, regarded as one of Dublin's premier business addresses.
Securing a site with such scale and in such a central location is a real rarity in the Dublin land market and this sale offers an opportunity to acquire either the residential or commercial site solely or the combined holding."
Pictured above: Dublin Docklands