2016 CSR Awards Shortlist Announced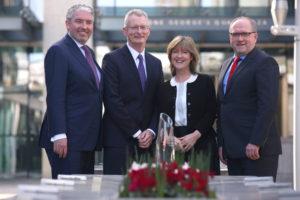 Chambers Ireland has announced the shortlist for the 2016 Corporate Social Responsibility (CSR) Awards. The awards, now in their 13th year, celebrate the positive work done by the business community for the benefit of their employees, the local community and the environment.
The awards are partnered with Business in the Community Ireland, sponsored by BAM Contractors and run in association with the Department of the Environment, Community and Local Government.
Announcing the shortlist, Ian Talbot, Chambers Ireland Chief Executive said: "The exceptionally strong and diverse applications for this year's CSR Awards is a reflection of just how important a contribution the business community makes to wider Irish society. This year the awards focus on how the business community can play their part in meeting some of the major challenges facing Irish society today, such as youth unemployment.
"Ireland has the opportunity to become an international Centre of CSR Excellence and attract inward investment from multinational companies that recognise the importance of being a socially responsible business. We are immensely proud that the CSR Awards showcase the excellent work that is taking place in the Irish business community and I would like to wish all on the shortlist the best of luck."
Tina Roche, CEO of Business in the Community Ireland said: "Business in the Community Ireland, as the network for corporate responsibility, congratulates all the shortlisted companies. With the launch of the Sustainable Development Goals and the renewed focus of business on the importance of sustainability, these awards act as a showcase of best practice and should inspire other companies to follow suit."
Awards will be presented for Excellence in Community, Supporting Youth Employment, Environment, Marketplace, Workplace, Communication, and CSR by an SME. One company will also be presented with the Outstanding Achievement in CSR Award at the ceremony in the DoubleTree Hilton Hotel, Ballsbridge, Dublin 4 on Thursday 1st September.
Complete 2016 Shortlist
Excellence in CSR Communication
Boots Ireland – Driving employee engagement and awareness of CSR through greater internal communication
ESB – Communicating the impact of ESB's Energy for Generations Fund
KPMG – KPMG's "Our CSR Story"
Three Ireland – "Together We Can Tackle Homelessness" Leveraging Three's sponsorship of the Irish Rugby Team to support Focus Ireland
Excellence in Community – Partnership with Charity – LIC
Bank of Ireland – Be Our Inspiration – Bank of Ireland & Barnardos
Bon Secours Hospital Cork – Social Skills App for Children with Autism
Datapac – Transforming technology services for Barretstown
Excellence in Community – Partnership with Charity – MNC
Boots Ireland – Boots Ireland in partnership with the Irish Cancer Society
Boston Scientific – Charity Partnership across three Boston Scientific sites in Ireland
Heineken Ireland – Heineken Ireland and Cork Simon Aftercare Programme
Lidl Ireland – Lidl's CSR Programme
Tesco Ireland – Tesco Ireland raising funds for Temple Street
Three Ireland – Three's Strategic Corporate Charity Partnership with An Cosán Virtual Community College
Excellence in Community – Community Programme – LIC
Bank of Ireland – Enterprise Town "Working together to support local communities"
DPS – DPS CSR Student Support Programme
Laya Healthcare – Super Troopers with Laya Healthcare
Excellence in Community – Community Programme – MNC
KBC Bank Ireland – Bright ideas
Microsoft – Tech4Good
Oracle Ireland – Mission Employment
Excellence in Community – Volunteering – LIC
Arthur Cox – Raising Standards of Living in Zambian Communities – The Arthur Cox Zambia Project ("ACZP")
PM Group – PM Group's "Building" Partnerships Initiative
Trinity College Dublin – Trinity Access 21
Excellence in Community – Volunteering – MNC
Abbott Ireland – Abbott Ireland: sharing our talent, experiences and resources in our local communities
Eli Lilly – Eli Lilly Day of Service
Oracle – Sales Skills for Community and Voluntary (C&V) sector: A master class in sales and professional mentoring
SSE Airtricity – SSE Airtricity Be the Difference volunteering programme
Three Ireland – Employee Skills Volunteering for Virtual Community College
Excellence in Environment – LIC – Sponsored by the Environmental Protection Agency
daa – daa travelling towards Sustainability
Dawn Meats – Carroll's Cross – Resource Management Excellence
ESB – ESB Tree Week
Roadbridge – Roadbridge Energy Management Programme
Excellence in Environment – MNC– Sponsored by the Environmental Protection Agency
Abbott Ireland – Abbott's journey to achieving 2020 environmental goals
IBM Ireland – IBM Smarter Cities Challenge Dublin
Tesco Ireland – Reducing carbon emissions and helping those in need through food waste donations at Tesco Ireland
Excellence in Marketplace
A& L Goodbody – A& L Goodbody collaborative project with the Irish Refugee Council's Independent Law Centre
Arthur Cox – Helping to Change Irish Legisation on Human Rights Around Immigration – Arthur Cox and the Immigrant Council of Ireland
KPMG – KPMG supports Going for Growth
Excellence in Workplace – LIC
Arthur Cox – Festering a culture of shared parenting for employees – Arthur Cox introduces Ireland's first Shared Parenting Leave Policy
Bank of Ireland – Be at your Best – Bank of Ireland's Workplace Wellbeing Programme
ESB – Maternity Positive Programme
Eversheds – Workplace Wellbeing Initiative
KPMG – Ignite – Empowering Young Women
Excellence in Workplace – MNC
AbbVie – The Abbvie Ballytivnan Culture Teams
Lidl Ireland/Lidl Northern Ireland – We are Lidl
PayPal – Diversity and Inclusion Strategy
Zurich Insurance plc – Zurich Wellbeing Matters
Excellence in Supporting Youth Employment
Diageo Ireland – Diageo Learning for Life
ESB – ESB Apprenticeship Programme
Mergon International – Building for the Future at Mergon International
Microsoft – Youth2Work
Zurich Insurance plc – Zurich Youth Activation
Excellence in CSR by an SME
Carey Building Contractors – Implementation of resource efficiency strategies
Collins McNicholas – 750km completed over 3 years in aid of Pieta House
Earth's Edge – Kilimanjaro Equipment Lending Programme
John Cradock Ltd – Homeless Care – supporting young adults exiting the state care system in Kildare
Three Q PERMS & TEMPS – The Business of CSR in our Business
*LIC – Large Indigenous Company
*MNC – Multinational Company
Judging Panels
The independent judging panel is made up of respected individuals working in various fields. The panel act independently at all times. This year's judging panel is as follows:
John Cunningham, is Chair of the judging process
Round 1 Judging Panel
Pauline McKiernan, Sustainability and Community Affairs at Ulster Bank
Sheila Killian, Director, Principles for Responsible Management Education, University of Limerick
Niall Hayden, Department of Environment, Community and Local Government
Nancy Brown, Lecturer in Management Development, University of Ulster
Catherine Heaney, Founder and Managing Director, DHR Communications
Round Two Judging Panel
Tomás Sercovich, External Relations Director, Forética
Martin Tobin, Chief Executive Officer, European Recycling Platform (ERP) Ireland
Éilis Murray, Executive Director, Philanthropy Ireland
Deirdre Mortell, CEO Social Innovation Fund
Deirdre Kearney, Department of the Environment, Community and Local Government
Nina Arwitz, CEO Volunteer Ireland
Maura Quinn, Chief Executive of the Institute of Directors
Rosa Chun, Chair in Global Leadership, Reputation and Responsibility, UCD Michael Smurfit Graduate School of Business.