DMX Dublin to showcase innovative start-ups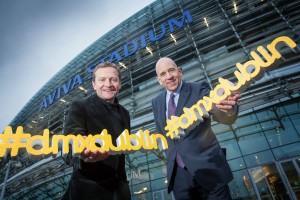 The Marketing Institute of Ireland has announced an additional programme running as part of this year's DMX Dublin digital marketing conference aimed at showcasing innovative start-ups in front of senior decision-makers in Irish marketing, media and advertising.
Each start-up will present within this year's innovation stream at DMX, and will get to deliver a detailed insight into their business.
Tom Trainor, chief executive of the Marketing Institute of Ireland, the professional body which owns and operates DMX, said: "For 2016, we have created a brand new stream to provide a platform for some of the hottest new marketing and advertising technology players in this great start-up city. We have carefully selected some of Ireland's most promising start-ups to showcase their offering at the biggest marketing event in Ireland."
DMX 2016 takes place at the Aviva Stadium on March 9th. The six Dublin start-ups taking part in the new innovation stream are as follows:
Birdleaf: Birdleaf helps marketing teams generate more revenue by turning email addresses into actionable insights by identifying key individuals and customer types, and providing rich analytics with the customer insights needed to make data driven decisions for marketing campaigns.
Tito: Tito is a web application for selling tickets online, with a focus on user experience, simplicity and privacy. To date, Tito has processed over $90m in ticket sales for thousands of event organisers in 55 countries.
Fandom: Fandom's software platform allows brands, sponsors and event organisers to aggregate owned and user-generated social media content in a single hub, and publish across mobile, tablet, desktop or big screen, helping turn fans into customers.
TVadSync: TVadSync leverages recent advances in content recognition, cross-device targeting and real-time advertising, enabling advertisers to deliver the right message at the right time.
Popdeem: Popdeem has developed one of the most powerful pieces of social marketing software in the world, helping location-based brands to identify their most influential customers and turn them into brand advocates through rewarding them for sharing brand experiences on social networks.
Pulsate HQ: Pulsate is a mobile marketing platform for apps and their locations. When the Pulsate plug-in is inserted into a mobile app, it can understand and engage with customers using push notifications, geofences and ibeacons.