Skillnet Ireland Chief Executive Paul Healy on helping businesses through the pandemic and upskilling workers to prepare for the growth sectors of the future.
January 2021 represents more than just the start of a new year. It brings us one step closer to a post-Covid world with the ramping up of national vaccination programmes globally, and critically, it marks a new relationship with our closest trading neighbour, as we enter the post Brexit-era. Few could have predicted the twists and turns of 2020, yet despite this uncertainty, Skillnet Ireland supported over 18,000 businesses – through our highly collaborative, cost-sharing model – to respond and adapt to these unprecedented business challenges. In many ways, the Skillnet Ireland approach is uniquely structured to support the recent challenges that presented for businesses nationwide; we are industry-led and pride ourselves on our agility and responsiveness. I want to commend the business community for their collaboration and commitment, in the most difficult of years, to the upskilling of 70,000 people in the workforce, through enterprise-led professional development programmes. The staff across the Skillnet Ireland community of Networks have shown real tenacity and creativity too. In a four-week period, we successfully moved 6,000 programmes to online platforms, helping businesses to adapt to their new circumstances. At the beginning of the pandemic, many businesses in the services sector found themselves in crisis. While they may not have instinctively been looking for management development and mentoring, we made it our goal to reach and support them. By working with these businesses and their management teams, it was evident that most were hugely resourceful, agile and had the ability to make very tough decisions to drive change for themselves, their staff and their customers. Yet, they needed that external support, to help them reflect and think through how they might adjust, because often they can't see the wood for the trees when they're down in the mire of the crisis.
UPSKILLING INITIATIVES
In many ways, 2020 demonstrated the best of our organisation, which is very much a public-private collaboration. We rapidly developed and implemented multiple industry-led initiatives in response to the impact of COVID-19 on businesses. One example is the ReBound initiative (delivered in partnership with Chambers Ireland, SFA, NSAI and Ibec) which enabled thousands of businesses across the country to safely reopen their doors. We worked with sectors such as childcare, private nursing homes, hair and beauty, leisure and fitness, restaurant and hospitality. Within six-weeks of the government's July stimulus package being announced, we launched the Skills Connect programme.
 As an enterprise-led organisation, we have deep roots in the business sector and in leveraging this unique position, we were able to secure the support of 400 businesses that signed up to participate. This has helped thousands of workers impacted by COVID-19, who were made redundant or laid off , to reskill quickly, and to prepare for exciting new career opportunities in growth sectors that are looking for talent, including technology, agri food, med tech, logistics, energy efficiency, the green economy and cyber security. Another major challenge, of course, is Brexit and we are very much on the ground and supporting businesses in dealing with the new administration difficulties and customs declarations. So far, over 2,000 businesses have undertaken our award-winning Clear Customs scheme, delivered in partnership with Chartered Institute of Logistics and Transport (CILT), the Irish Exporters Association (IEA) and Carlow Institute of Technology. It meets all of the customs training requirements that businesses, large or small, will need to ensure goods move efficiently and smoothly on and off the island.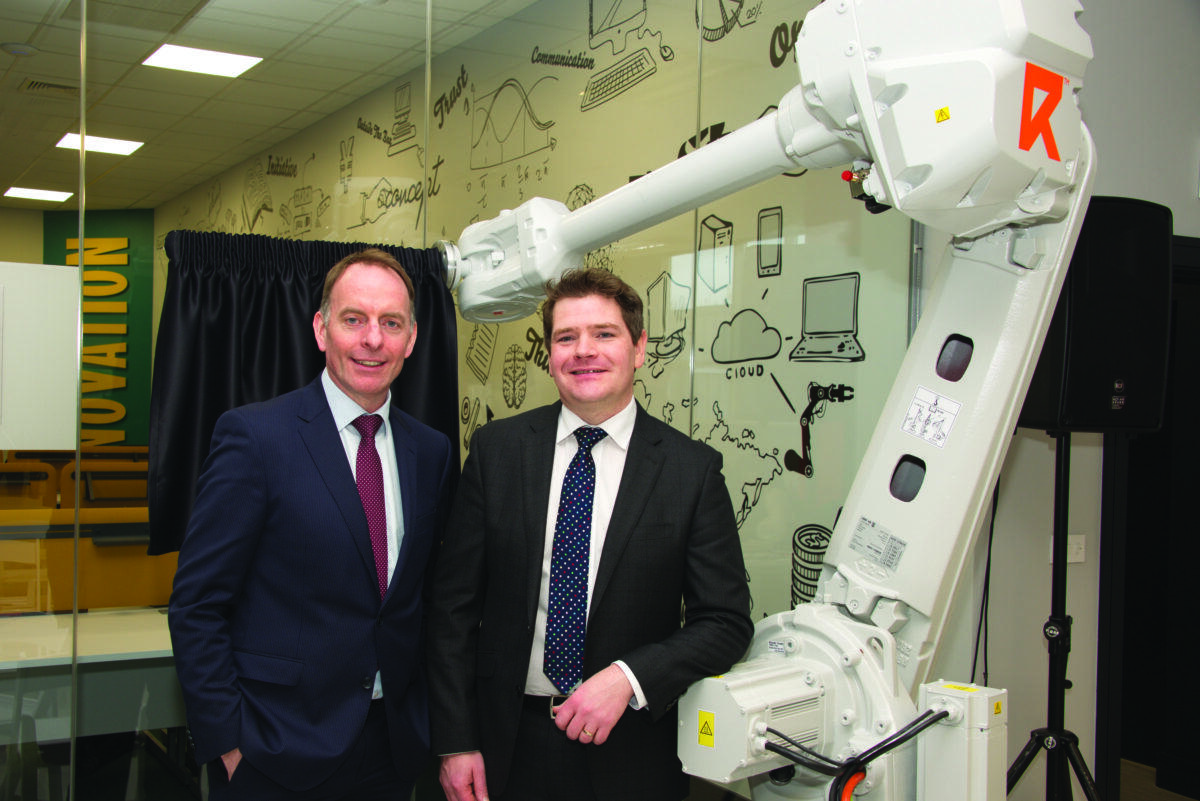 LOOKING TO THE FUTURE
The challenges we were faced with last year have not gone away but have been compounded by the impact of COVID-19. Brexit was always going to have a major impact on the business sector and, in this country, particularly in the agri food and the food production sector. As Ireland transitions to a low carbon and environmentally sustainable economy, businesses will have to transform and introduce sustainable business models themselves. That requires an immense amount of talent, upskilling and training to help workers on the sustainability journey. The other issue is technology and digitalisation of our work. That is an area we have been at the forefront of for many years, not just at the highest end in terms of technologies like AI, blockchain and Big Data, but also in working with small businesses to help them with the digital agenda and increasing adoption of online platforms. We launched our new five-year strategy last November: 'Transforming Business Through Talent 2021- 2025' which sets out ambitious targets over the course of the next five years to increase our organisation's engagement with business and industry— we excel in triple-helix collaboration, that is to say, between government, the business sector and the higher education and training sector, and we will continue to leverage these collaborations to address Ireland's future skills needs. Our strategic focus centres around Workforce Innovation which encompasses a progressive and forward thinking view on the future of work and the big mega trends in technologies, increased global competition and climate action. We are anticipating what they mean for the workforce of the future and converting that into real action on the ground.
2020 Recognition Awards Winners in Profile