ARCH centre strengthens board with new appointments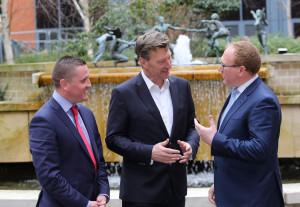 The Applied Research for Connected Health (ARCH) centre has announced the appointment of two new industry members to strengthen its steering committee.
Joining the Enterprise Ireland and IDA funded technology centre's steering committee are Conor O'Byrne, CEO, RelateCare and Brendan Casey, CEO, swiftQueue.
ARCH is hosted at University College Dublin (UCD) where researchers with clinical, engineering, technology, policy and economic expertise, with input from University of Limerick (UL) and almost all higher education institutes in the country with connected health research capabilities, collaborate to deliver on the connected health research agenda defined by its industry partners.
The centre's steering committee is comprised of individuals from the academic, industry and healthcare provider community with responsibility to provide balanced, neutral and independent counsel and guidance to ARCH's centre director in the direction and operation of the centre as well as the selection of research priorities for the centre.
Entrepreneur and investor, Oliver Tattan, chair of the committee, said: "I am pleased to welcome Conor and Brendan as new members. These individuals bring a wealth of experience and expertise in their fields and will be tremendous assets to our technology centre as we further our mission of carrying out industry informed research on the adoption, deployment and sustainability of connected health solutions and translating this research in a way that can enable our member companies increase competitiveness."
ARCH is headquartered at NexusUCD, the industry partnership centre at UCD, and 21 industry partners are currently steering the ARCH research programme.