Britain will remain key partner for Ireland despite Brexit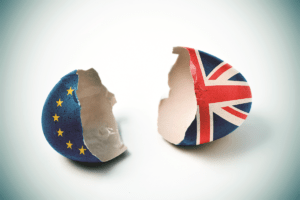 Chambers Ireland has said the UK will continue to be a key partner for Ireland into the future despite the outcome of yesterday's vote that Britain, our closest neighbour and a major trading partner, will be leaving the European Union.
Speaking this morning, Chambers Ireland Chief Executive Ian Talbot said: "While this is not the result that we believe is in the long term interests of the Irish economy, the UK will continue to be a key partner for Ireland into the future. The EU and UK now need to focus on measured responses to limit future uncertainty and undertake a sensible, proportionate exit negotiation process that will work for all parties.
"A clear framework for a UK exit must be agreed and put in place that minimises disruption and enables businesses to plan for the new reality. The EU also needs to develop a new programme of reform to improve the functioning of the single market and the competitiveness of European business."
He continued: "Chambers Ireland has been quite clear that Ireland must remain at the heart of the EU in order to secure our economic future. Increasingly, European states face challenges that are global in nature and can only be met as part of a cohesive union. The increasing competition between regional trade blocs, climate change and the migrant crisis are examples of current challenges that can only be surmounted by adopting a unified strategy through the EU. Notwithstanding the UK decision to leave, we firmly believe that Ireland's economic future is best safeguarded as part of the EU."
Meanwhile, the British Irish Chamber of Commerce has said it is committed to supporting its business members in the UK and Ireland as they must now plan for a changed future environment. The Chamber says it will constructively support early steps to bring certainty to the outlook facing employers and that it looks forward to the UK Government quickly determining its requirements as it negotiates its exit from the EU.
John McGrane, Director General of the Chamber, said: "As the voice of businesses with significant employment in the UK and Ireland, the Chamber is concerned about any adverse impact the UK's decision could have on trade between these islands. To that end the Chamber will work constructively in support of:
A comprehensive and quickly concluded trade agreement between the EU and the UK whilst recognising the unique relationship between the UK and Ireland.
The continuation of the long-established Common Travel Area between Britain, Ireland and Northern Ireland.
A comprehensive and quickly concluded trade agreement between Ireland and the UK, preserving fully the long established 

free movement of capital, people, goods and services.
Delivery by the EU on its commitment to increase the EU's competitiveness through reduced administrative burdens and compliance costs on business and repealing unnecessary legislation, as well as pursuing an active and ambitious policy for trade."
He added: "The referendum has highlighted the importance of two way trade between Ireland and the United Kingdom. The British Irish Chamber of Commerce commits to proactively assisting businesses on both islands to further increase this trade for the benefit of all."