Budget will be shaped by Brexit challenges, says Taoiseach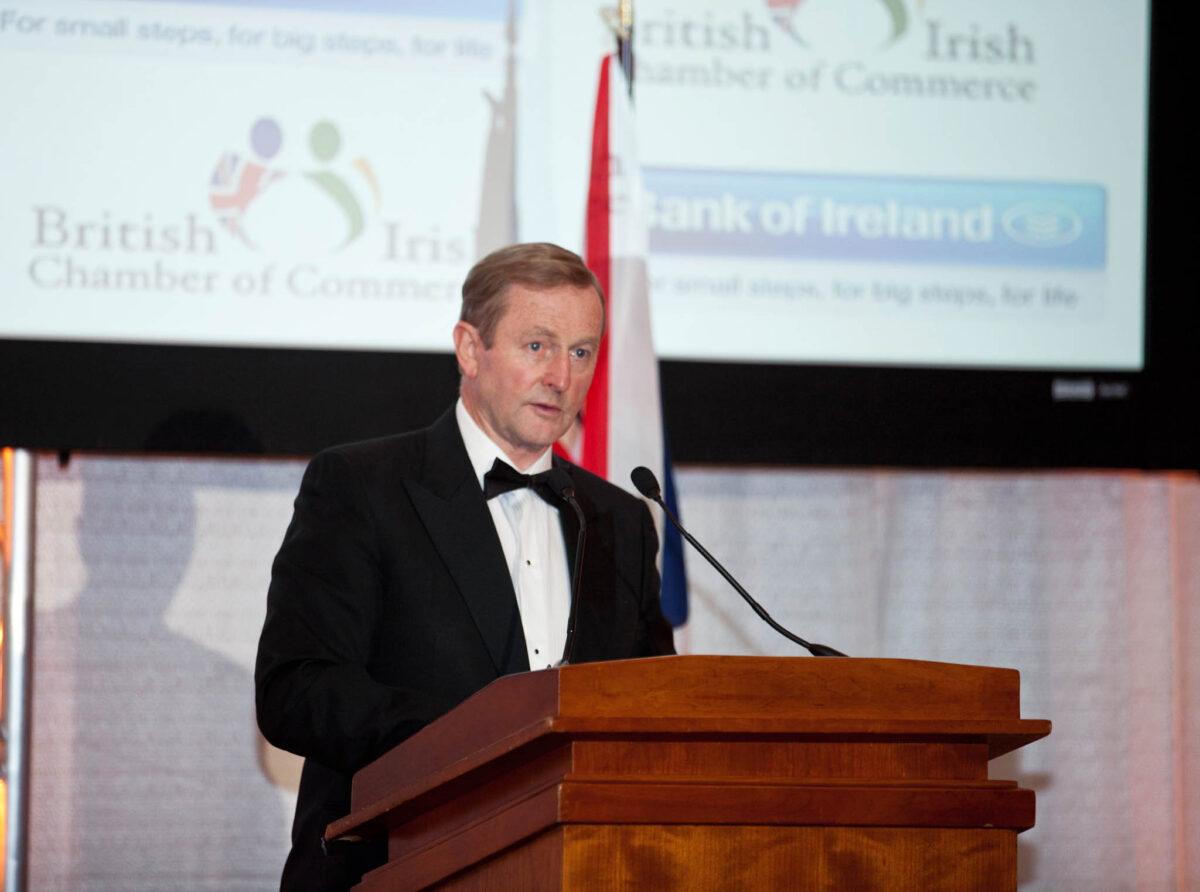 Over 400 prominent business leaders from across Britain and Ireland attended the British Irish Chamber of Commerce President's Gala Dinner in the InterContinental Hotel, Dublin, which was addressed by An Taoiseach Enda Kenny.
The dinner, which was the first significant business gathering in Ireland since Britain voted to leave the European Union on the June 23rd, brought together influential figures from across Britain and Ireland from the worlds of business, investment and politics.
Attendees at the dinner included Taoiseach Enda Kenny TD; British Secretary of State for Exiting the European Union, David Davis MP; Minister for Foreign Affairs and Trade, Charlie Flanagan TD; Minister for Jobs, Enterprise and Innovation, Mary Mitchell O'Connor TD; Managing Director of Business Banking at Bank of Ireland, Mark Cunningham; and President and Director General of the Chamber, Eamonn Egan and John McGrane.
Addressing the dinner, An Taoiseach Enda Kenny TD said: "The British Irish Chamber of Commerce has been and continues to be a central pillar in enhancing the close relations which exist between Ireland and the United Kingdom. Following the Brexit vote the work of the Chamber will be more important than ever as it is not in our collective interest for the UK, the EU and Ireland to have anything but the best possible future relations.
"The Brexit vote, in addition to rising international economic and political uncertainty, will have an impact on a small open economy such as Ireland. We will be scaling up and intensifying work to mitigate risks across Government. The upcoming Budget in October is another stepping stone in our plan to protect hard won economic progress and to protect ourselves against future shocks. Given the potential significance of Brexit for the Irish economy and business community, the Budget will also be shaped by the challenges resulting from Brexit, and to set out a national economic response. Let us focus on the opportunities as well as the challenges and work together to ensure a future throughout these islands that is positive, rewarding and above all peaceful."
President of the British Irish Chamber of Commerce and Country Manager at Lloyd's, Eamonn Egan, reiterated the Chamber's commitment to fostering trade and business between the two islands in a changing landscape. He said: "The British Irish Chamber of Commerce highlights the special relationship between the United Kingdom and Ireland as central to imminent EU-UK negotiations."
Egan called for a commitment from all to work to ensure that the special relationship between the two countries is further enhanced so that "it is recognised as not simply a special relationship but is recognised as the special relationship for both of our countries within the context of a wider Europe."
For its part Mr Egan said: "The Chamber will do all that it can to support both Governments in their work towards enhancing the special relationship between our countries as the new landscape unfolds."