Leading Innovation at Irish Distillers
Businesswoman of the Year, Claire Tolan, Managing Director – Ireland, Irish Distillers, on innovation, connecting with consumers digitally and online whiskey tastings.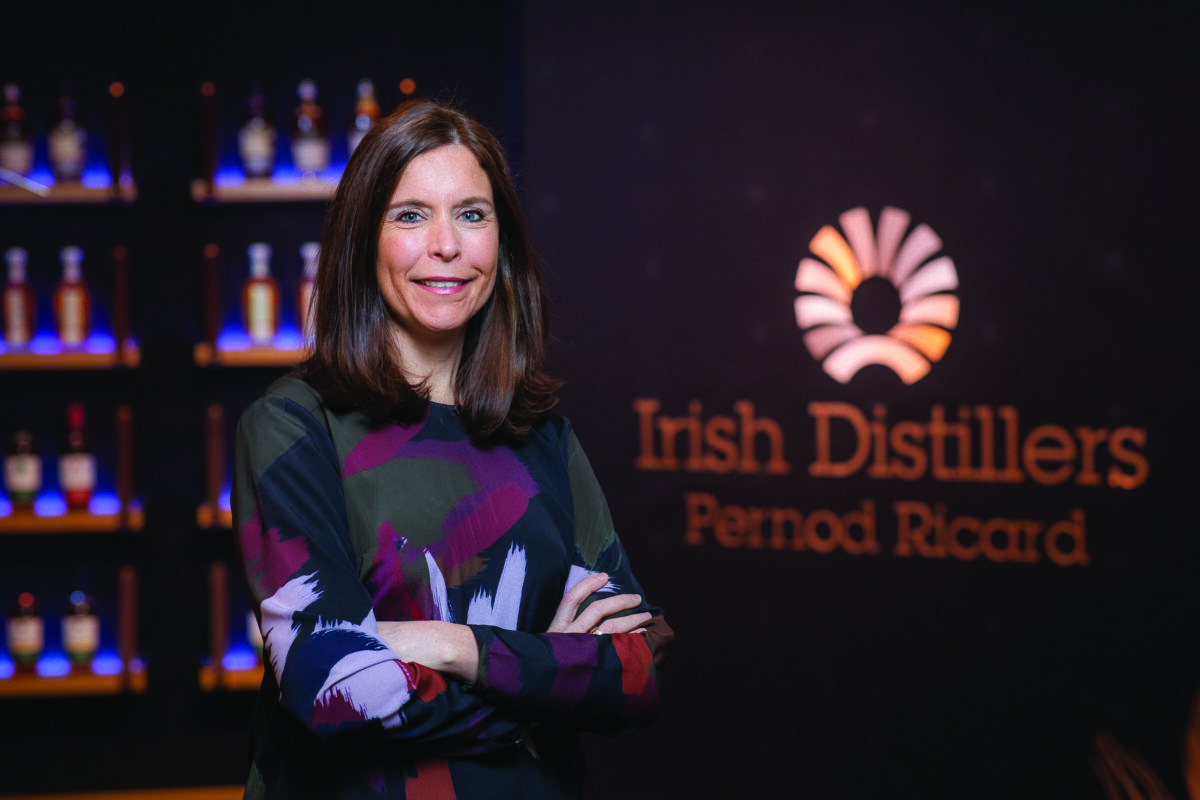 Q: How has 2020 been for your business?
A: In spite of the impact on our business from the Covid-19 pandemic, Jameson recorded solid growth in over 50 key markets including South Africa, Russia, UK, Australia, and Germany. I look after the domestic market here in Ireland and despite challenging conditions for our partners in the on-trade, we have seen an upsurge in demand in the off -trade outlets. The trend of premiumisation is here to stay, as consumers choose higher quality spirits, helping us achieve healthy volume growth in Ireland last year across most of our brands including Jameson, Powers, Redbreast, Method and Madness, and Midleton Very Rare and across the wider Pernod Ricard portfolio of wines.
Q: What were the key wins for you over the last year?
A: Growth across our super premium whiskeys, led by Redbreast and Midleton, was key to our success in 2020. Interest in our single pot still range has been multiplying year on year, with our portfolio leading the way in establishing the category with knowledgeable whiskey drinkers. Innovation remains at the heart of everything we do, and the team in Midleton Distillery continued to push the boundaries in 2020. In February 2020, Midleton Very Rare Silent Distillery Collection was launched. This 45-year-old Irish single malt is the first chapter in a series of six editions. There will be one release annually until 2025 with the last release coinciding with Old Midleton Distillery's 200th birthday. Redbreast 27 was also released as a new permanent expression to the Redbreast family and the reimagined Blue Spot Single Pot Still Irish Whiskey was unveiled in November.
Q: How has your strategy/business changed as a result of COVID-19?
A: Our production and bottling plants are essential to our operations and a lot of work has been done over the past year to ensure the safety of our staff , while also ensuring business continuity. The move away from live events has given us opportunities to connect with whiskey drinkers through exclusive digital content, launches and experiences, deepening their engagement with our brands. We also know that consumers love to learn from our experts, which is why we have used technology and social media to continue our famous whiskey tastings.
Q: What are the qualities or initiatives that made your company stand out over the past year? 
A: Our ability to work with, and listen to, our partners has been the standout quality that has allowed us to make a real difference in 2020. When the need for hand-sanitiser for our front-line workers became clear in March, like many others, Irish Distillers wanted to be of help and respond to the situation. Working with Mervue Laboratories in Cork, Irish Distillers delivered 800,000 litres of alcohol, which has been used in the manufacture of hand-sanitiser for the Irish Health Service Executive. This effort has been supported by Smurfit Kappa, supplying packaging, CCL, providing labels, and Matheson, offering legal expertise. It was fantastic to see the Irish business community direct its collective efforts to help those who needed it most. I am proud that, together, we were able to deliver for our community with the speed and agility that the situation called for.
Q: What does this award recognition mean to you?
A: This award means a great deal to me. I would like to thank Chambers Ireland and InBusiness for this incredible honour. To be nominated amongst these businesswomen who have shown such entrepreneurship, creativity, and fearless thinking over the past year is truly humbling. This award is a testament to the entire team at Irish Distillers, who have had to constantly evolve throughout 2020.
Q: How would you describe the overall landscape in your sector at present?
A: There has been no doubt that, as an industry, the COVID-19 pandemic has challenged us immensely, but we have shown incredible resilience and sought ways to continue to support our customers and communities as best we could. Our customers and partners in the hospitality sector have had a particularly difficult year. The owners, families, and employees of these wonderful venues across Ireland have been unable to trade since their doors closed just before St Patrick's Day. We will be working with them to encourage patrons back to the bar when it is safe to do so.
Q: What are the major industry trends that you will be looking at going forward?
A: We hear from high-end outlets, both on-and off – trade, that the consumer is drinking less, but drinking better quality products, and that is reflected in the global growth of our prestige range. We expect to see premiumisation continue to drive the category in 2020, reflecting the increase in consumer appetite, particularly among millennials, for premium and super-premium spirits. Consumers are showing a desire to trade up and enjoy quality spirits and to learn and understand more about the complexity of these products.Jameson Cold Brew is an example of a recent innovation, which combines Jameson's triple distilled Irish whiskey with cold brew coffee, that was piloted in Ireland initially and then officially launched in the US last January. Despite the impact of Covid-19, this new release has gotten off to a fast start with a fantastic consumer reaction.
2020 Recognition Awards Winners in Profile