ESB Wins Outstanding Achievement in CSR Award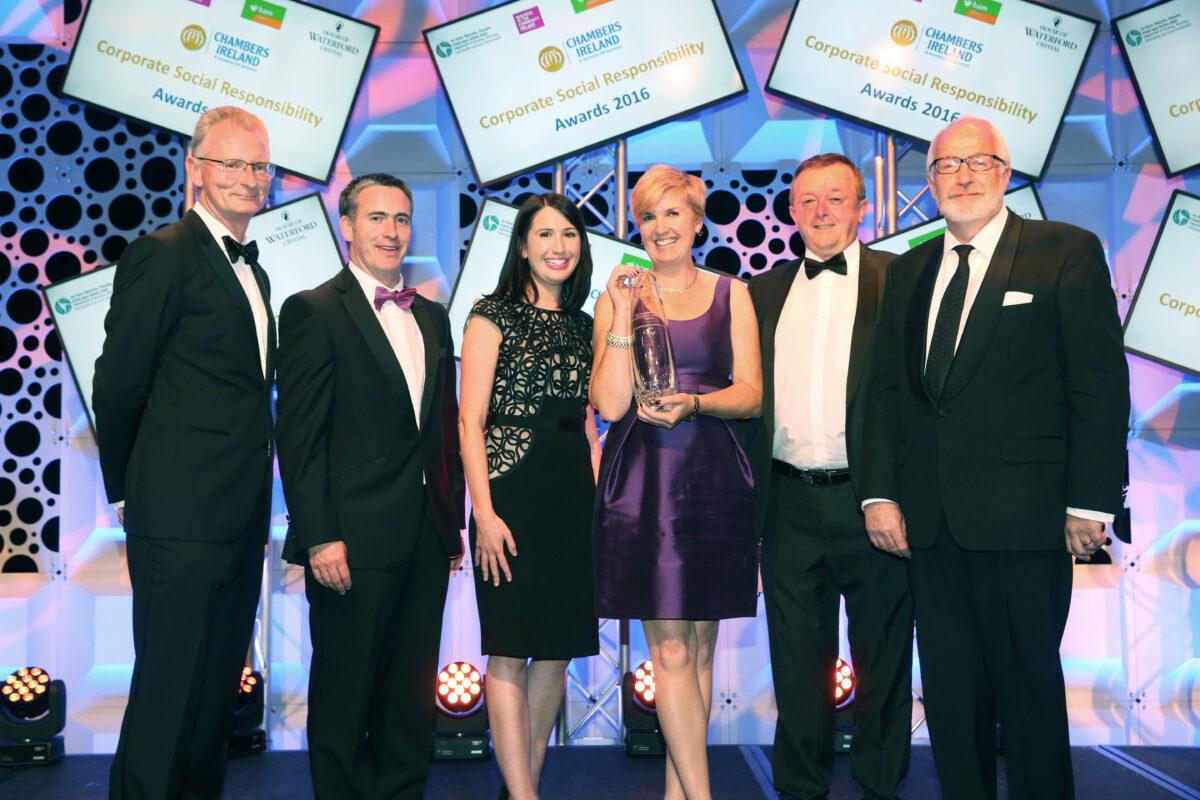 ESB has won the Outstanding Achievement in Corporate Social Responsibility (CSR) Award at the 2016 Chambers Ireland CSR Awards held in the DoubleTree Hilton in Dublin. ESB was selected by the judging panel for having CSR practices embedded at the company's core and for the organisation's ongoing dedication to community engagement and responsible business practices.
The 13th annual awards were run in association with the Department of Housing, Planning, Community and Local Government, partnered with Business in the Community Ireland and kindly sponsored by BAM Ireland, with the Environmental Protection Agency sponsoring the Excellence in Environment Award. Each winner was presented with a specially commissioned trophy designed by Waterford Crystal.
Speaking at the awards ceremony, Ian Talbot, Chief Executive of Chambers Ireland said: "The business community plays an important role in Irish society and each year the CSR Awards recognise the level of commitment to corporate responsibility displayed across the Irish business community. Tonight, we are delighted to celebrate the contribution made by Irish companies not just for the benefit of the company itself but also to the wider community and to the many beneficiaries of charity partners."
The other winners on the night were as follows:
Excellence in CSR communications: Three Ireland for the project Together We can Tackle Homelessness. Three provided Focus Ireland with a one million euro marketing campaign including a short 3 minute documentary-style advertisement, a TV and radio advertising campaign, PR activity and a fundraising drive. Three also made its own "Call" to Ireland's rugby fans during the 6 Nations to donate €2.
Excellence in Community – Partnership with Charity – LIC: Bon Secours Hospital Cork for supporting the development of the Social Skills App for Children with Autism. Developed by the Shine Centre for Autism and supported by the Bon Secours, the app teaches social skills to adolescents with high functioning autism and Asperger Syndrome. The app is designed as a fun and interactive way for children to learn key social skills. It has been hugely successful to date with nearly 20,000 downloads.
Excellence in Community – Partnership with Charity – MNC: Three Ireland for Three's Strategic Corporate Charity Partnership with An Cosán Virtual Community College. The College is a start-up education initiative which aims to eliminate poverty and social inequality to disadvantaged communities through online education. From financial donation to employee skills based volunteering and e-mentoring, Three utilises company assets to support the charity.
Excellence in Environment – LIC – sponsored by the Environmental Protection Agency: Dawn Meats for implementation of Carroll's Cross Resource Management Excellence. Dawn Meats is on track to meet their 2020 targets of reducing energy and water intensity by 40 per cent, emission intensity by 50 per cent and zero waste to landfill. Their demonstration farm in Athenry aims to inform 10,000+ farmer suppliers on alternative and best practices to improve economic and environmental sustainability.
Excellence in Environment – MNC – sponsored by the Environmental Protection Agency: Abbott Ireland for its project Abbott's journey to achieving 2020 environment goals. Teams across the six manufacturing sites continue to lead a wide range of projects that positively impact the environment, the business, communities and employees. Abbott has a strong tradition of environmental stewardship and their sites in Ireland continue to implement excellent projects to ensure they continue on their journey to achieving their environment goals.
Excellence in Community – Volunteering – LIC: Trinity College Dublin with the project Trinity Access 21. The vision is to be a catalyst for social transformation, supporting people to reach their full educational potential through innovation, research and advocacy. It is a mentoring programme that involves more than 1,200 second level students from 11 Dublin schools. It aims to support the development of a 'college-going culture' in schools with low progression rates.
Excellence in Community – Volunteering – MNC: Oracle for Sales Skills with the initiative Community and Voluntary sector – A master class in sales and professional mentoring. The initiative was designed to be long-term, sustainable but adaptable to the community needs; it aims to give a sustainable, replicable and long-term support to the community and voluntary groups. Also aims to infuse new skills and strengths in the participants to overcome current professional and sector challenges.
Excellence in Community Programme – LIC: Laya Healthcare for the project Super Troopers with Laya Healthcare. A 'health homework' programme developed by education, psychology, nutrition and well-being experts to encourage the same discipline towards activity as there is towards traditional homework. Super Troopers is the first ever health homework programme run in Ireland, with 180,000 children in over 1,000 primary schools participating nationwide
Excellence in Community Programme – MNC: Microsoft for implementing the Tech4Good programme. The programme provides free access to software and latest technology to non-profit organisations nationwide. Microsoft employees also donate their time and skills to train staff and develop solutions for these organisations so they can ably use the software donated to them.
Excellence in Workplace CSR – LIC: Bank of Ireland for the initiative Be at your Best – Bank of Ireland's Workplace Wellbeing Programme. BYAB was developed to help employees to be at their best, focusing on three pillars of wellbeing, namely; mind, body and career. The Bank wanted to create a culture that supported colleagues to increase their overall physical and mental wellbeing so they could survive and thrive in an increasingly competitive, challenging and changing working environment.
Excellence in Workplace CSR – MNC: PayPal for its Diversity and Inclusion Strategy. Paypal's Dublin and Dundalk offices have a number of initiatives including a two-day Diversity and Inclusion Training workshop, and an active women's network with mentoring programmes. PayPal supports Labour Market Activation measures and is a sponsor of the 2016 Pride Parade. They are committed to continuing this strategy to ensure all their teammates feel included.
Excellence in Marketplace CSR: Arthur Cox for Helping to Change Irish Legislation on Human Rights Around Immigration – Arthur Cox and the Immigrant Council of Ireland. This relationship is part of Arthur Cox's commitment to providing pro bono legal services. The secondment programme has been running since 2013 and the results are of huge benefit to the many migrant families that access the Council's legal services annually.
Excellence in Supporting Youth Employment: Diageo Ireland for Diageo Learning For Life. The programme provides young people on the live register with the skills, training and experience to take up employment in the tourism and hospitality industry. Since 2014, 175 young people have taken part with 70% securing part-time or full-time employment either with their work experience partners or through their own initiative.
Excellence in CSR by an SME: Carey Building Contractors for Implementation of resource efficiency strategies. During the construction of an extension in Merlin Park Hospital a feasibility study was undertaken to reduce the environmental burden of construction activities while increasing competitiveness. Shortcomings were identified with the current procedures and solutions were suggested to improve environmental performance and reduce costs, which produced a cost saving of €8,834.64.
Pictured: Ian Talbot, CEO, Chambers Ireland, Minister for Housing and Urban Renewal Damian English TD, Anne Cooney, Group CSR Co-Ordinator ESB , Sarah Claxton, ESB Employee Engagement Manager, Paul Naughton, HR Director, ESB and Mike Jones, Sponsors BAM