GoMo - Best Irish Brand of the Year
Launching the GoMo brand has been truly market-changing. Says Caroline Lynch, GoMo Marketing Lead.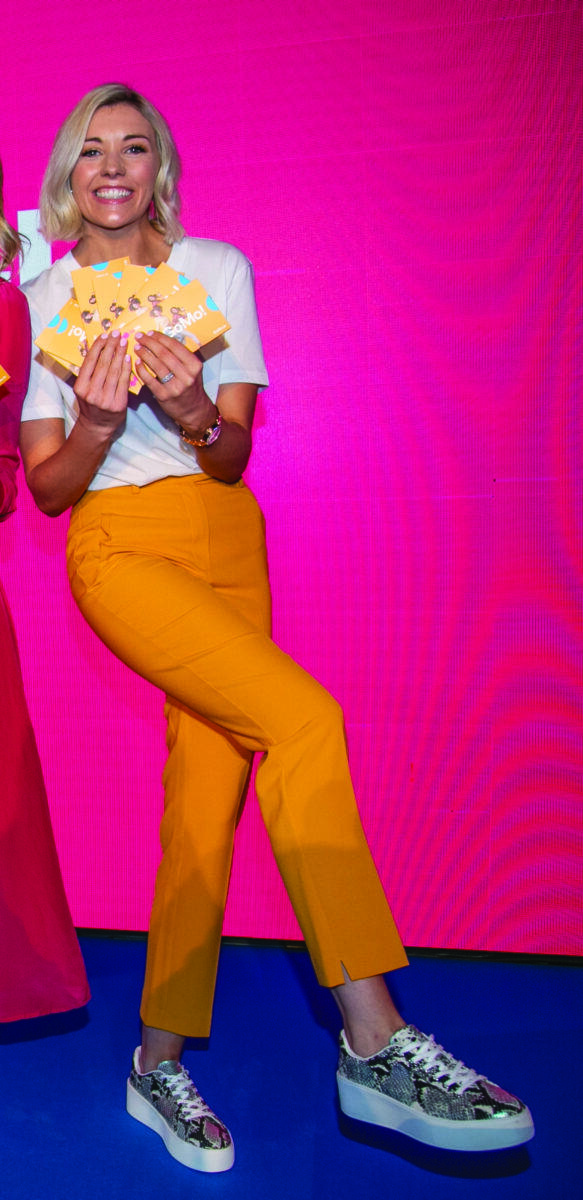 GoMo launched in October 2019 with a €9.99 'for life' offer and quickly gained a strong market share, luring 100,000 customers over to take advantage of the deal within two months. By October 2020, GoMo had 250,000 active Irish customers, equating to 4% of the Irish mobile market within just 12 months of launching. The brand uses eir's 4G network and since the introductory offer finished, now offers 'unlimited' data, calls and texts for €12.99 per month. GoMo has increased eir's overall share of the mobile market to 22% from 19.5% over the course of the year. Caroline Lynch, GoMo Marketing Lead, reflects on the hugely successful launch.
Q: How has 2020 been for GoMo?
A: It was a very successful year despite the COVID-19 pandemic & the challenges it brought. GoMo celebrated its first anniversary in October of 2020 and announced reaching the major milestone of 250,000 customers in one year. GoMo, as an online brand, was relatively unaffected by many of the challenges—however moving our teams from office to working from home was a challenge in the beginning, but once moved and settled the team has gone from strength to strength. The GoMo team work tirelessly to ensure our customers have the highest level of service and care. The GoMo proposition is simple and designed to meet the wants and needs of customers with all calls, texts and data for a set price for life….there's just one plan.
Q: What were the key wins over the past year?
A: It has been really exciting to be involved with a brand that is truly market changing. GoMo is the only mobile plan in Ireland with a guaranteed price for life. We have won two other awards, and this is our third. We also won the Switcher. ie Award for Best SIM Only offering, and the Bonkers.ie Award for Best Billpay Plan. We're also very proud that GoMo has 99% 4G population coverage across Ireland, and of course hitting the amazing customer number milestones.
Q: What were the major challenges of the last year?
A: We were lucky in that, as a fully digital brand GoMo was designed to meet the needs of today. The brand is not offered in retail stores, everything is online. The simplicity of our proposition and processes meant it was easy for our customers in 2020. We were lucky in this respect, faced with the challenges of the Covid-19 pandemic. We feel it's market-leading proposition, which others are now following.
Q: How has your strategy/business changed over the year?
A: We marked our first anniversary of GoMo in October, so it's still very early days and we continue to review and innovate our offering to meet the needs of our customers. In year one we received many questions from our customers asking why they couldn't have more people
on their account. Parents with teenage children for example, who wanted to manage everything simply, and so we increased the limit on each account from two SIMs to four SIMs.
Q: What does this award recognition mean to you?
A: This is huge! We are so passionate about the GoMo brand and it is incredibly important to be recognised for the work we have created. We know more than a quarter of a million customers love GoMo, our growth demonstrates this, and the fact that we have shaken up the mobile market backs this up. In recent months other operators have tried to repeat our formula and our success and they haven't been able to do this.
Q: What are the qualities or initiatives that made your company stand out from the competition?
A: We were first to market with a digital mobile brand that was created to give customers everything they want and need, cutting out anything unnecessary. There are unique features—one proposition and one price point, a 'for life' guarantee, the simplicity and self-service, great network coverage and innovative partnerships aligned with our customer's needs, such as our partnership with Revolut.
Q: What's next for GoMo?
A: It is an exciting time for GoMo and we have big ambitions for our continued growth. We continue to monitor the market and we will adapt to customer wants and needs. We plan to work with more partners that share the same ethos with GoMo. We're working on some really exciting projects and look forward to bringing them to our customers. GoMo has been created with our customers placed centrally to every decision we make—so this year expect us to continue expanding, expect exciting online campaigns that represent our customers and expect that GoMo will continue to innovate and deliver for our customers.
2020 Recognition Awards Winners in Profile