New angel syndicate to invest €2m in West of Ireland start-ups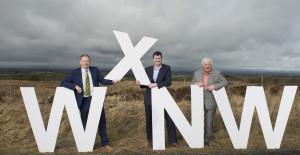 HBAN, a joint initiative of InterTradeIreland and Enterprise Ireland responsible for the all-island promotion of business angel investment, has unveiled its new angel syndicate. The West by North West (WxNW) syndicate, together with Enterprise Ireland, will invest €2 million in start-ups located around the western seaboard in 2016.
The new syndicate includes 12 business angels based in or connected to the western seaboard of Ireland. These successful entrepreneurs have the experience, network and business acumen to help start-ups grow their businesses into international success stories. Over the next year, WxNW is actively recruiting to double its number of angels to 24 and become one of the largest syndicates in Ireland.
Working with syndicates means angels have the opportunity to diversify risk by spreading their investment across a number of companies with support from other angels both in WxNW and other syndicates throughout Ireland.
HBAN's WxNW syndicate wants to invest in west of Ireland-based and connected start-ups in sectors such as technology, manufacturing, education and tourism. The new syndicate is working closely with bodies such as Enterprise Ireland, WestBIC and the Western Development Commission to provide not only funding, but the support and access to networks to help these start-ups grow their businesses.
Through its other syndicates, HBAN has already supported a number of companies located in the area, such as Embo Medical and Capsos Medical. HBAN last year celebrated reaching the milestone of €50m invested in start-ups across Ireland and Northern Ireland, cementing an annual growth of 44 per cent in angel investment on the island since 2008.
John Mullen, Chair of WxNW said: "WxNW is a harbour for angel investors either located around the western seaboard, or with an interest in or connection to the area. We're conscious that there are active angels investing in the region and WxNW is a platform through which they can engage with more companies, spread risk and crucially, increase their chances of gaining significant returns on investments."