Seven companies make Dublin's Digital Hub their new home in 2016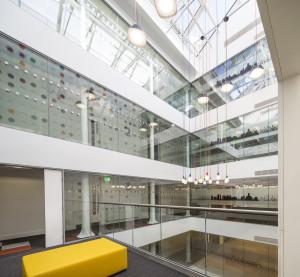 The Digital Hub in Dublin has revealed that it has added seven ambitious and growing digital businesses to its technology cluster of 94 companies since the start of 2016.
These new scaling companies comprise of four international and three indigenous Irish companies, collectively employing 23 people at present but with plans for further expansion and employment growth over the coming months.
Among the seven new companies establishing their presence in The Digital Hub are Bizimply, an Irish tech start-up, founded by directors of the successful café chain, Nude, who developed their idea for a more effective way of managing people and work scheduling in the restaurant and retail sector via its award-winning online workforce management app. The business currently employs 14 people and plans to double the team size in the next 12 months.
Gerard Forde, CEO and Co-Founder, Bizimply, said of The Digital Hub: "We started our journey at the NDRC, as part of their LaunchPad programme in 2013, so it really feels like coming home to be back in the Liberties area of Dublin. It is great to be surrounded by so many great tech companies and we believe The Digital Hub will give us the flexibility and support that will allow us to expand rapidly and double our head count in the next 12 months."
Commenting on the new companies moving into The Digital Hub, Gerry Macken, Chief Executive Officer, Digital Hub Development Agency said: "We are delighted to welcome seven new and ambitious companies in the first quarter of this year. Each of the companies have an exciting business proposition and business plan for further growth. At The Digital Hub, we are looking forward to playing our part to support their growth stories by providing a vibrant, collaborative and flexible working environment that will enhance their productivity."
There are now over 700 people working in companies based at The Digital Hub making it the largest cluster of digital media, technology and Internet businesses in Ireland.
In summary, the new companies announcing their move to The Digital Hub are:
Bizimply, an award-winning Irish company, that has developed an online workforce management application that supports the way restaurants and retail businesses, manage and engage with their employees. Bizimply combines all the day-to-day management requirements of its customers (scheduling, HR, clock-in stations, shift reporting etc) into one easy-to-use cloud based system. Key customers for Bizimply include Wagamama, TGI Fridays, Insomnia, Mothercare and CompuB.
Adaptive International, a software and professional services firm providing a data governance platform, which enables users to always see where their data is stored, what that data means, how their data flows around their organisation, and the impact of intended or unintended transformations on it. The company has offices in the US, India, UK and now Ireland. Its customer base covers multiple industry sectors including finance, insurance, government, pharma, energy, high tech and retail.
Site Analytics, an Irish company that provides a specialist software solution that identifies warm online sales leads by tracking all business visitors to a company's website. Its software portal identifies the business name, full contact details of the business, contact details of the key decision makers and the products and services that interested them whilst on the particular website.
CoinaPhoto, a new photo sharing social media platform that connects users to a vibrant global community and marketplace for real digital photography. Launched in 2014, CoinaPhoto provides a platform for users to showcase and market their photography to potential buyers. With an existing global community of over 18,000 (growing at 50 per cent each quarter), CoinaPhoto has started to make a difference by connecting, nurturing and sustaining aspiring talent from around the world.
Zoozh, a start-up business established this year, that is focussed on building innovative platforms in the mobile applications sector, with a focus on delivering a high degree of originality and captivating content.
ChildDiary, an Irish company launched in 2014 as a social media platform for schools to embrace engagement with parents, staff and their community. The platform provides users with the tools to increase parental engagement, support planning and streamline processes between educators and parents in particular.
Pentagon 2000 Software, who develop and market a leading Enterprise Resource Planning (ERP) software system used primarily in the aerospace and defence industries. Customers of its flagship Pentagon 2000 SQL software include aircraft operators, maintenance centres, component repair and overhaul shops, manufacturers, distributors and parts traders.