Shannon Chamber Urges Members to Use Shannon Airport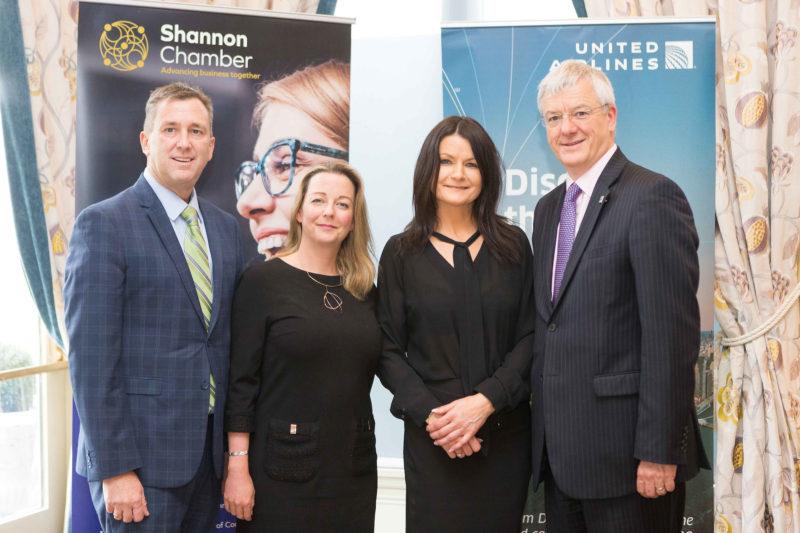 As the peak travel season approaches, Shannon Chamber has made a call to its member companies and to fellow Chambers along the Atlantic Economic Corridor (AEC) to give priority consideration to Shannon Airport as their airport of choice when making corporate and personal travel reservations.
As stated at a corporate luncheon organised by Shannon Chamber last week – at which United Airlines Managing Director for the UK and Ireland, Bob Schumacher, was a guest speaker – loyalty to any airport is important and comes from its customer base.
Addressing the lunch, Shannon Chamber president Julie Dickerson said: "Whatever we can do as a Chamber to encourage additional capacity into this region, we will certainly do, and whatever I can do as CEO of Shannon Engine Support to show that, as a company we are willing to use Shannon as our airport of choice, I will do. There is no truer slogan than Fly Shannon, it's easier."
United Airlines will operate a daily service throughout summer 2018 offering customers in the West of Ireland a direct connection to New York. From its New York/Newark hub, United and United Express offer nearly 400 daily departures to more than 150 destinations.
Also speaking at the business lunch, United Airline's Bob Schumacher said: "Through working with our travel agency partners across Ireland and building strong relationships with businesses throughout the West of Ireland, we look forward to supporting the Shannon-New York/Newark route and proving the value proposition of Shannon."
Pictured above: United Airlines Managing Director for the UK and Ireland, Bob Schumacher with Brian Hughes, Corporate Sales Manager Ireland and Martina Coogan, country sales manager Ireland and Northern Ireland, United Airlines and Helen Downes, CEO, Shannon Chamber.
Photograph by: Eamon Ward