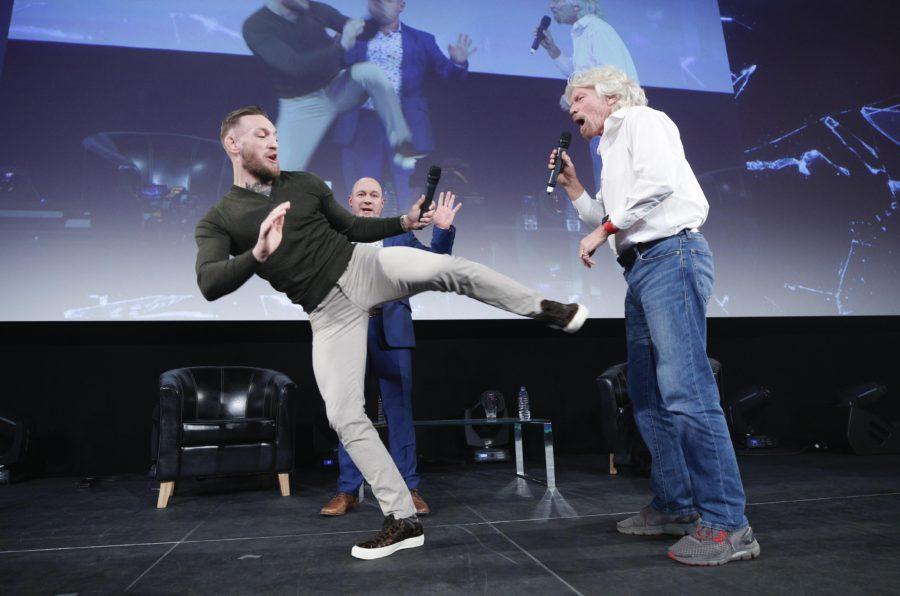 Business magnate and philanthropist Sir Richard Branson has taken to the stage as the keynote speaker at Pendulum Summit 2018, a business and self-empowerment summit held at The Convention Centre Dublin.
The two-day sell-out event, which kicked off on January 10, is being attended by over 7,000 leaders in business and provides attendees with the opportunity to hear from sought-after speakers such as Branson himself; Jo Malone OBE, founder of Jo Malone and Jo Loves; Randi Zuckerberg, former Facebook executive officer and now CEO and founder of Zuckerberg Media; and Paul O'Connell, former Munster, Ireland and Lions Captain, and Leadership Expert.
On the first day of the summit, UFC fighter Conor McGregor was presented with the inaugural Pendulum Summit lifetime achievement award by Branson, and the two even squared off for a showdown.
Pictured above: Conor McGregor, event MC Alan Shortt, and Sir Richard Branson