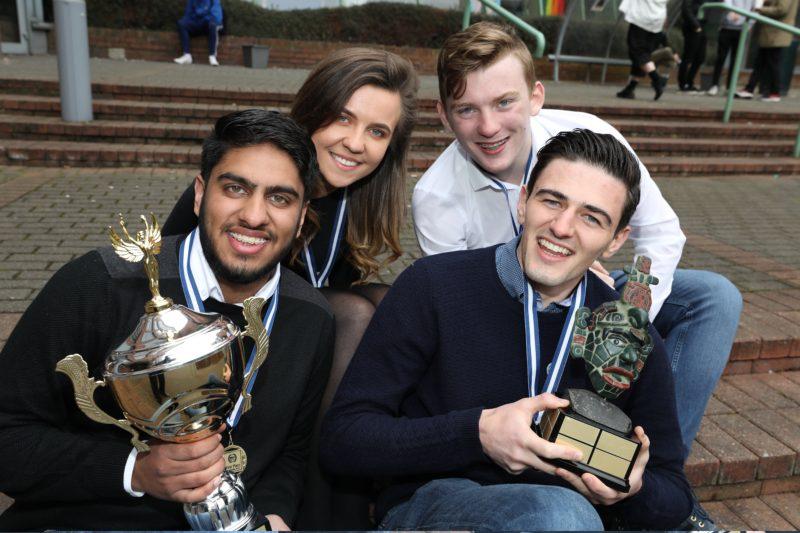 Dublin Institute of Technology (DIT) has announced that its College of Business has won the Network of International Business Schools (NIBS) International Case Study Competition 2018. The contest brings together top undergraduate students from some of the world's leading international business schools. This year, DIT College of Business students defeated Bishop's University, Canada in the grand final and outclassed 15 other finalists from some of the most distinguished business schools across the globe to include Europe, Canada, USA and South America.
The team of four DIT BSc Marketing students, Keith McCabe (Ratoath College) Shaun Spelman, (Colaiste Choilm, Swords) Orlaith Keys (Loreto Navan) and Hamaad Sajid (St. Patrick's College, Cavan) qualified in November to reach the finals and travelled to Guatemala in March to compete in the competition.
Over the course of a week, the team competed against their rivals from across the globe, completing six complex and varied case studies and were required to analyse and solve complex international strategic business cases within a tight timeframe. They then presented their recommendations to a panel of judges comprised of senior industry professionals, policymakers and academics and defended their chosen strategies in the Q&A sessions. Throughout the week, host university, UNIS organised an excellent cultural programme introducing the visiting team to Guatemala.
Congratulating the team on their success Robin Ritchie, Vice President of the Network of International Business School said: "DIT is always a contender but, from their very first match, it was clear this year's DIT group was something special. Like many teams, they offered sound analysis and good solutions. But it was their ability to justify their recommendations and connect with the audience on a human level, which resonated with the judging panel. It truly set them apart. It was clear these were people the judges would actually hire."
Pictured above: DIT Marketing students Orlaith Keys, Shaun Spelman, Hamaad Sajid and Keith McCabe celebrating their Gold Cup win at the NIBS International Case Study Competition 2018.