Taoiseach Briefed on Shannon Strategic Projects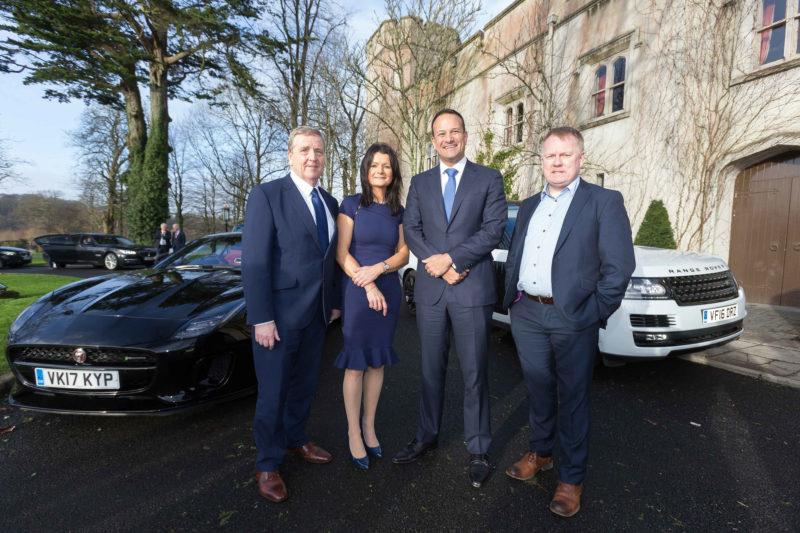 An Taoiseach, Leo Varadkar TD, has been briefed on strategic projects in Shannon and the Atlantic Economic Corridor (AEC) during a visit to the area. The Taoiseach was the keynote speaker at a Shannon Chamber lunch in Dromoland Castle Hotel on Saturday, January 20, where Shannon's importance as an economic engine at both regional and national levels was outlined.
Welcoming An Taoiseach to Shannon, Chamber director Kevin Thompstone said he was visiting in a week when Jaguar Land Rover announced its decision to locate a new software engineering centre in Shannon, creating 150 jobs, which was an endorsement of Shannon's attractiveness to foreign direct investment.
Taking the opportunity to illustrate the initiatives underway in the Shannon region, Mr Thompstone said that the completion of the M17/M18 motorway will put Shannon Airport in the centre of the west of Irelands' motorways and help enhance the airport's growth.
Concluding his remarks with a focus on Shannon as a key town in the centre of the AEC, Mr Thompstone pointed to a key piece of infrastructure missing – a recognised town centre.
"Shannon needs a focal point for community, civic and creative activity," he stated, while outlining plans to develop a response to this need in the form of a multi-purpose civic, cultural and amenity centre called The Venue Shannon. " Voluntary effort and private funding to the tune of €0.9 million – 98 per cent from the private sector and the balance from Shannon Town Council – has delivered a turnkey project from concept to strategy to planning, with full planning permission already approved. The business and community of Shannon have shown the way through action with time and hard cash inputs. Government support at national or local level is the critical next step in moving the project forward.
"The completion of this multi-function community, civic and creative centre would be the innovation solution to drive Shannon forward. It would be part of a new beginning, in the same way as the new town concept was in the Lemass and O'Regan eras."
Pictured above: An Taoiseach, Leo Varadkar TD; Minister Pat Breen TD; Helen Downes, CEO, Shannon Chamber; and Paul Girr, chief engineer, Jaguar Land Rover.
Photo by: Eamon Ward.