Allmin Resources Wins Business of the Year Award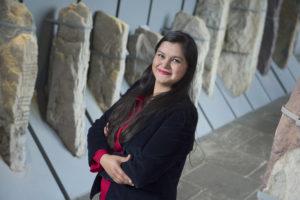 Alpa Agrawal, founder of Allmin Resources Ireland Ltd., has been recognised at the IGNITE Graduate Business Innovation Programme Awards and Showcase, as her company was named Bank of Ireland/IGNITE Business of the Year 2016.
This year's IGNITE Awards and Showcase celebrated the progress and achievements of the sixth cohort of new businesses who participated in the 2015/16 nine month business incubation programme. Awards presented on the night included Business of the Year, Business Plan, Innovation, Showcase Display and Individual Contribution, sponsored by Bank of Ireland, EY and J.W O'Donovan Solicitors.
Winners were chosen based on presentations given to a judging panel of respected business people at Bank of Ireland's Regional Headquarters on the South Mall. The judging panel comprised of Diarmuid Lynch, Flagship Manager at Bank of Ireland, John Sheehan, Partner, J.W. O'Donovan; Karen Gayer, Manager, EY; and Orla Rimmington, Partner at Kernel Capital.
After the Business of the Year Award was presented to Ms. Agrawal, who identified the opportunity for her business while completing a Masters in Innovation, Commercialisation and Entrepreneurship at UCC, two further awards were made in recognition of business planning and innovation. The EY/ IGNITE Business Plan Award was presented to Breffney O'Dowling-Keane for her company, FruitCubed, while the J.W. O'Donovan Solicitors/IGNITE Innovation Award went to Steven Merrick and Paul Davidson for their company, Zazsi.
Diarmuid Lynch, Flagship Manager at Bank of Ireland, who chaired the judging panel, praised the young companies fighting out for the title of business of the year. He said: "The calibre of the business presentations was once again very high, and it's very encouraging to see that a number of the start-ups we met are well on the road to success, having already generated sales revenue or raised finance. Each of the start-ups that presented to the judging panel demonstrated true entrepreneurial spirit and steadfast determination and each has the potential to develop a successful business."
Past winners of Bank of Ireland/ IGNITE Business of the Year Award also attended the ceremony including, Dr Sinead Bleiel, founder of AnaBio Technologies and Richard Barrett and Ross O'Dwyer, co-founders of sorts media website PunditArena. Other past winners include James and Peter Nagle of BitCove, Eoin O'Carroll and Kevin Bambury of Portable Medical Technology Ltd., and Mike McGrath of supply.ie.
Eamon Curtin, IGNITE Programme Director said: "Since its inception in 2010, our programme has seen 60 businesses, involving almost 80 individuals, complete the programme, many of which are now trading internationally. For start-ups that undertake the Programme, IGNITE support is equivalent to a €25K investment, and founders do not give up any equity in their business."
He continued: "As we come to the end of the sixth phase of the IGNITE Programme, I would like to wish each of this year's participants every success as they continue to move their businesses to the next level, and congratulate our award winners in particular. We look forward to welcoming the next intake of IGNITE participants this autumn, who will follow in the footsteps of some very successful young entrepreneurs who have paved the way for them to succeed on their entrepreneurial journey."
The Ignite Graduate Business Innovation Programme is supported by Cork City Council, Cork County Council, the Local Enterprise Offices of Cork City and County, Bank of Ireland, and University College Cork.