Food Academy retail sales set to top €25M in 2016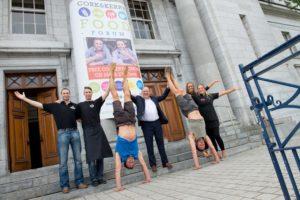 It was announced at the Cork and Kerry Food Forum that retail sales from companies supported by the Food Academy programme are expected to top €25 million in 2016. The Food Academy Programme, a partnership initiative between SuperValu, Bord Bia and the Local Enterprise Offices (LEO) Network, works with and nurtures small food businesses from the start up phase to stocking their products in supermarkets.
More than 5,000 attended the first day of the Cork and Kerry Food Forum, and thousands more are expected to attend the second day at City Hall Cork. The two day event features one of the largest artisan food market in Ireland, showcasing over 70 local food producers.
Speaking at the event, Martin Kelleher, SuperValu Managing Director, said: "I am delighted to announce that sales from the Food Academy Programme are expected to top €25 million this year. Two hundred and eighty one Food Academy producers are currently selling their products in SuperValu stores across Ireland, with these producers supporting more than 900 jobs nationally. Small food businesses play a vital role in the Irish economy and SuperValu are delighted to support these local producers."
"The Food Academy was established to support passionate and entrepreneurial food producers in Ireland. This unique joint initiative has proven hugely successful, as evidenced by the phenomenal 2016 sales figures announced today by SuperValu. We are delighted to have our Food Academy producers at the Cork and Kerry Food Forum, this event is about showcasing the incredible offerings from the Cork and Kerry Region," said Joe Burke, LEO South Cork.
Guest chefs at the Cork and Kerry Food Forum included David and Stephen Flynn of The Happy Pear. The identical twins, who are also SuperValu Good Food Karma ambassadors, shared their vegan and wholesome approach to eating, their favourite recipes through hugely popular free cookery demonstrations and their philosophy of making natural and healthy food mainstream.