Shortlist for Excellence in Local Government Awards Announced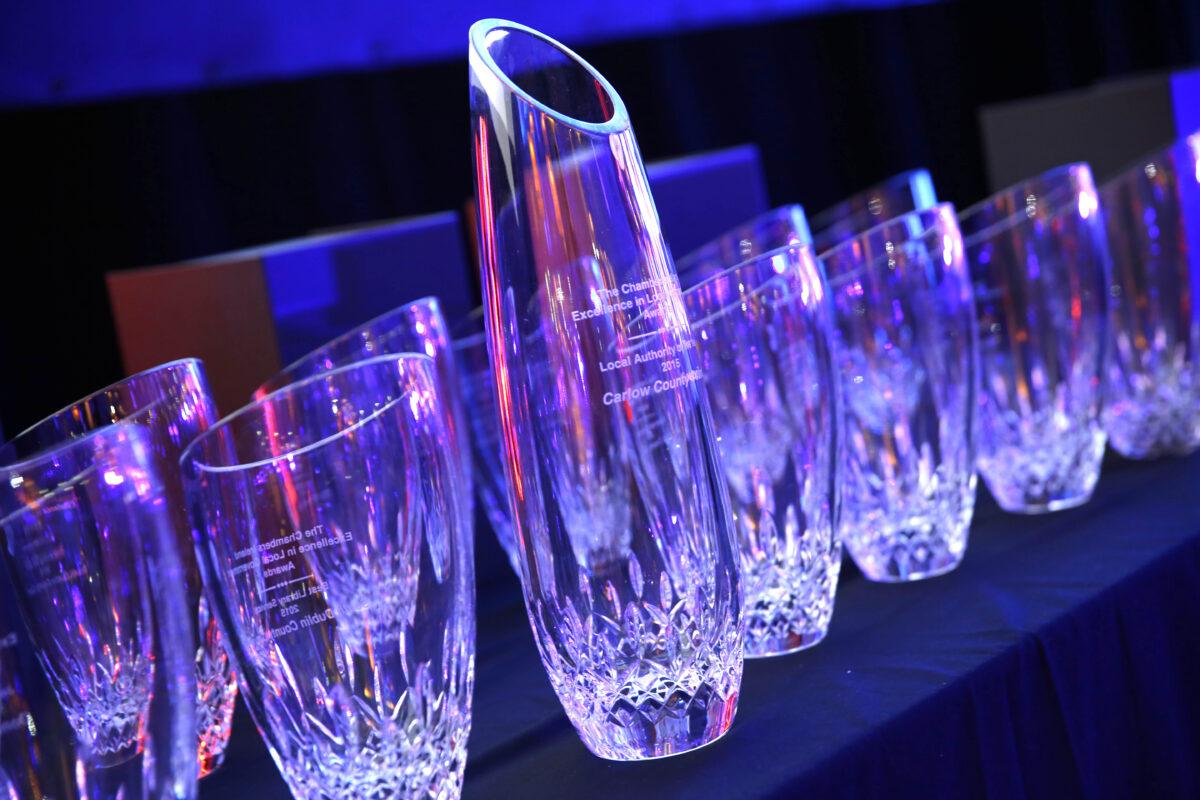 Chambers Ireland has announced the shortlist for the Excellence in Local Government Awards 2016 with a total of 23 local authorities shortlisted over 16 categories. The awards, held in association with the Department of Housing, Planning, Community and Local Government, showcase best practice in local Government and recognise the skills, hard work, innovation and enthusiasm within local Government that can often go unrecognised.
Commenting on the announcement of the shortlist, Ian Talbot, Chief Executive, Chambers Ireland said: "It is important to recognise the continued hard work of local authorities across Ireland despite the many challenges they have faced in recent years. The shortlist for the 2016 Excellence in Local Government Awards highlights the dedication shown by Irish local authorities across a range of categories, from promoting economic development to sustaining the arts.
"This year we introduced a new category, Commemorations & Centenaries, to showcase the enormous effort that was put into projects and events to celebrate and commemorate 1916 across the country. I would like to congratulate the 23 shortlisted local authorities and acknowledge the excellent work being undertaken by all local authorities in Ireland."
The winners will be announced at the 13th annual awards ceremony on November 24th at the Crowne Plaza Hotel, Northwood, Santry. Awards will be presented for excellence in 16 different categories and one local authority will be awarded the overall award and named Local Authority of the Year 2016.
Complete Shortlist for ELG Awards 2016
Supporting Active Communities
Best Practice in Citizen Engagement
Health & Wellbeing
Cork City Council – Sensory Workshops for Health & Wellbeing
Kildare County Council – Athy Community Addiction Response
South Dublin County Council – HI South Dublin Healthy County
Supporting Tourism
Promoting Economic Development
Local Authority Innovation
Cork City Council – Cork City Council's Litter Fine System
Fingal County Council – Fingal Online Consultation Portal
Limerick City & County Council – HAP Shared Services Centre
Monaghan County Council – Lifetime Dog Licence with free Microchipping and Registration
South Dublin County Council – Building the Lean Six Sigma Organisation
Sustainable Environment
Cork County Council – Implementation of ISO 5001 standard in Cork County Council
Dublin City Council – Think Energy: Home Energy Saving Kit
Dún Laoghaire-Rathdown County Council – Biodiversity in Action
South Dublin County Council – Social Credit Scheme
Best Library Service
Galway County Council – Rebirth and Reimagining – Ballinasloe Library: A Community Focus for a New Generation
Offaly County Council – Open Libraries
South Dublin County Council – South Dublin Libraries Heritage Publications and Bookstore
Wexford County Council -Wexford Mobile Library Service – Literacy at the heart of Rural Communities
Sustaining the Arts
Dún Laoghaire-Rathdown County Council – dlr Performing Arts Award
Fingal County Council – The Lucky Penny 1916 Literature Project and Exhibition
Kildare County Council – 1916 Sackville Street Art Project
Joint Local Authority Initiative
Donegal County Council– North West of the Island of Ireland – A Strategic Model for Regional Development Growth
Dublin City Council – Smart Dublin
Sligo County Council – Boosting regional enterprise, tourism and economic activities through overseas and transatlantic linkages
Festival of the Year
Cork County Council – A Taste of West Cork Food Festival
Fingal County Council – Dublin Bay Prawn Festival 2016
Louth County Council – Drogheda Arts Festival
Mayo County Council – Battle for the Lake Kite and Music Festival – Achill Island
Outstanding Customer Service
Cork City Council – Cork Cashes Out
Fingal county Council – Fingal Customer Care Unit
Limerick City & County Council – Implementation of Customer Services Centres
Tipperary County Council – Integrated Customer Services Centre
Enhancing the Urban Environment
Cork County Council – Clonakilty Urban Design Masterplan
Dublin City Council – Kilmainham Civic Space
Fingal County Council – "Keeping it Green" An Open Space Strategy for Fingal – Large Scale Bulb Planting in Civic Areas
Meath County Council – Ashbourne Main Street Refurbishment Scheme
Heritage and Built Environment
Cavan County Council – The 1916 Exhibition and Experience
Fingal County Council – Swords Castle: Digging History
Kildare County Council – John Devoy – The Greatest of Fenians
Disability Services Provision
Fingal County Council – Adapted Physical Activity – Sports for All
Kerry County Council – Kerry Library Toys & Sensory Resources Service
South Dublin county Council – Learn to Cycle
Wexford County Council – Wexford County Council Beach Wheelchair Initiative
Commemorations & Centenaries
Carlow County Council – Carlow Ireland 2016 "Reflections from a Light Box"
Dublin City Council – Dublin Remembers 1916 – 2016: Is Cuimhin Linn
Fingal County Council – Fingal 2016 Centenary Programme
Kildare County Council – 1916 Sackville Street Art Project
Meath County Council – Battle of Ashbourne State Ceremony and Commemorative Event
Monaghan County Council – From a Whisper to a Roar – Exploring the Untold Story of Monaghan
South Dublin County – Commemorative plaza with pedestrian and cycle entrance to Pearse Museum and St. Enda's Park, Grange Road, Rathfarnham, Dublin 16
Wexford County Council – County Wexford 1916 Centenary Commemorative Programme