Entrepreneur: Nicola Mitchell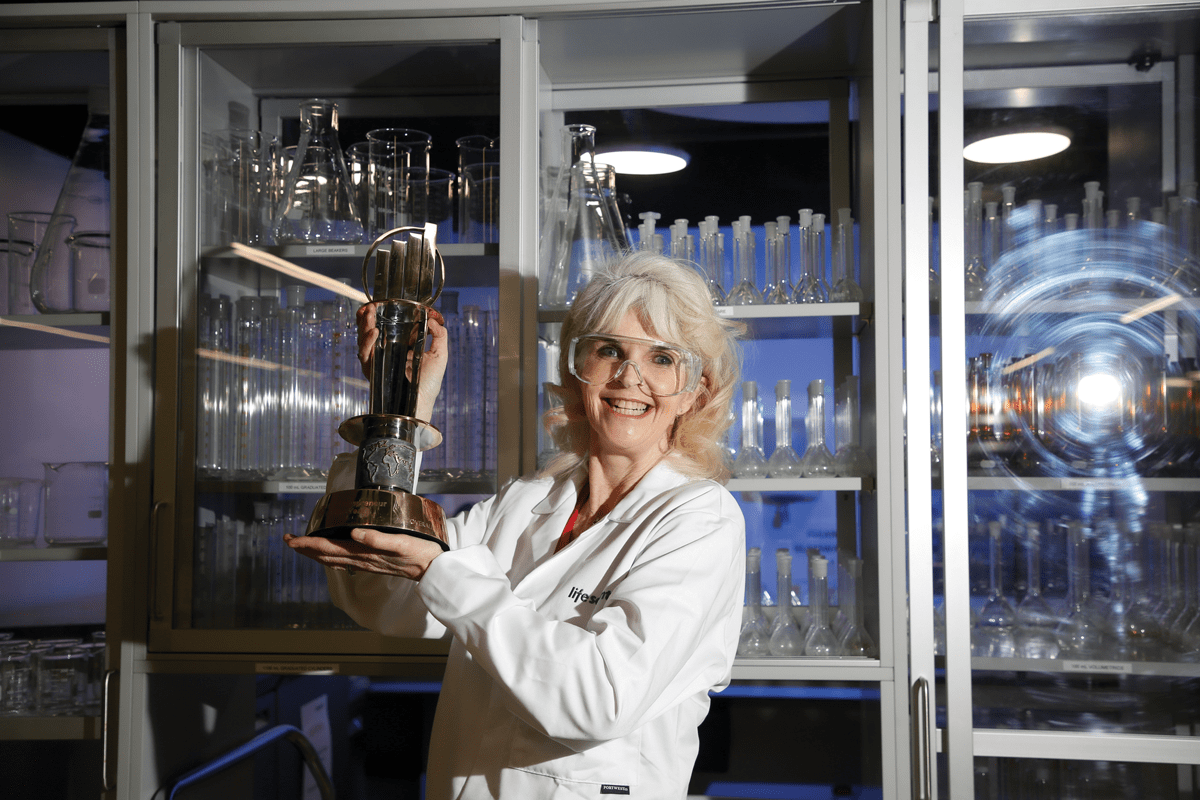 Nicola Mitchell, Founder and CEO, Life Scientific with her EY Entrepreneur of the Year Award
The EY Entrepreneur of the Year 2020 is Nicola Mitchell, Founder and CEO of Life Scientific, a progressive company specialising in the development and registration of generic, 'off-patent' agrochemicals. Its goal is to give customers better options to meet their crop protection needs.
Q: Would you say you always had a business head on your shoulders?
NM: I left University College Cork with a master's qualification in Chemistry and a clear ambition to one day build a multinational business based on science. As a graduate, I took up a role with a generic agrochemicals manufacturer and spent 10 years there learning the industry. I could see the regulatory landscape for agrochemicals was changing and how future success could be defined by a deep understanding of chemistry and regulation.
Q: What is the secret to the success and growth of Life Scientific?
NM: Our in-house research and development (R&D) function is our unique selling point and our critical success factor. We have the ability to reverse engineer a product from the original to produce a product accepted as identical by agrochemical regulatory authorities. It's a bit like unravelling the Coca Cola recipe – taking the final product and breaking it down into its component ingredients so that we can then put it back together. We don't just reverse engineer the multinationals' products, but everything they do – their dossiers, strategies, processes and people – to learn how they think. But producing the clone is only half the story. We have to get the product approved and the natural reaction of regulators is to say 'no'. We have to build a very convincing case to show our product is comparable and ensure the only conclusion they can come to is to say 'yes'.
Q: What does your approach to R&D allow you to do differently?
NM: Our unique approach to R&D means we can offer agrochemical products to agronomists and growers earlier than any other off-patent company. The only difference between our product and that of the brand leader is cost. Ours costs less. We can break multinational product recipes down into their component parts and reconstitute them in new ways, for example to increase efficacy by 30%. Because multinationals don't compete on each other's products, we are the only company selling all of the key building blocks, making it easier for us to introduce novel combinations for growing a clean and healthy crop. We have also developed novel formulations that work at significantly reduced dose rates.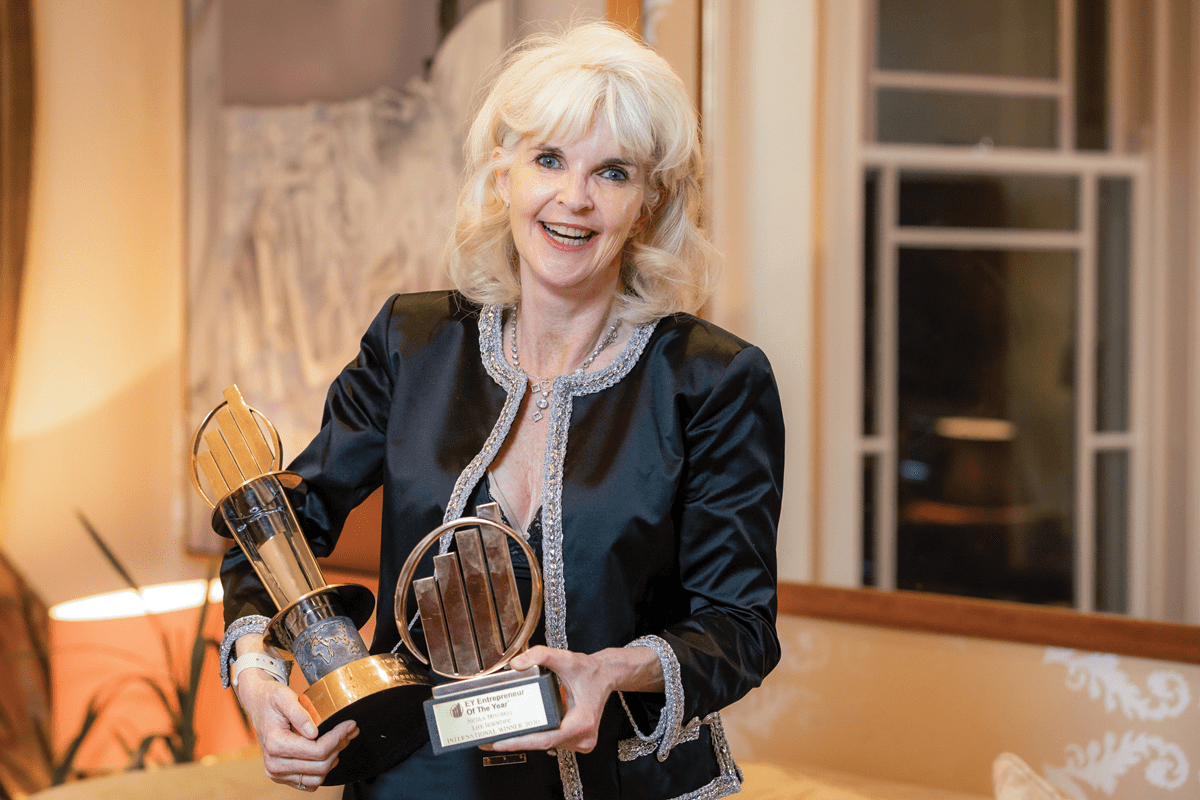 Nicola Mitchell, Founder and CEO, Life Scientific with her EY Entrepreneur of the Year Award
Q: How have you grown and developed the business?
NM: I started Life Scientific from a room on the University College Dublin (UCD) campus in 1995 and it quickly became the first Good Laboratory Practice facility in Ireland, offering contract product development services to agrochemical and pharmaceutical clients. Over time, we established the product development capability for generics and, by 2011, the company had successfully pivoted from being a service provider to developing and selling our own products. Today, Life Scientific employs over 80 people and has a portfolio of 62 registered products sold in five countries. We have achieved 50% revenue growth to €60m in the last financial year.
Q: How do you see the business evolving from here?
NM: We have always been a global business – purchasing in Asia, manufacturing and selling in the EU and now planning regulatory filings in North and South America. It is very difficult to replicate our core competence of reverse engineering capability coupled with deep regulatory knowledge. That said, we are always looking to push further and stay ahead. We have a number of research projects ongoing, including with UCD. Agrochemicals are our focus today, but our platform is nimble and agile enough for us to be fast followers of innovation in the crop protection industry, whatever direction that takes. Biocontrol is the obvious move – we will be there when the time is right.
Q: What key lessons have you learned as CEO of Life Scientific?
NM: Only the best will do when attracting and retaining the team. It is the team which has brought the company to where it is now, has shaped our path and will define future success. Our company culture is based on shared leadership and matching responsibility with expertise to create a flexible, collaborative environment for a uniquely productive and enjoyable work experience. More than half of the team are scientists, based at our headquarters in Belfield Office Park near the UCD campus. I recruited many of these scientists myself and within an instant got the sense they were winners, able to see through the confusion of our formative years and happy to be thrown in at the deep end. They make all the hardship worthwhile on days when the whole world seems to be conspiring against you. Simply knowing that if your team can't do it, then nobody can, is what makes you jump out of bed the next day, all fired up and armed with a brand new set of tactics. Q: Where would you like to be with Life Scientific in five years' time? NM: Earning annual revenues of €250m with a billion dollar valuation and ultimately to emerge as the single biggest disrupter/challenger in our industry.