Maxol set to strengthen presence in greater Dublin area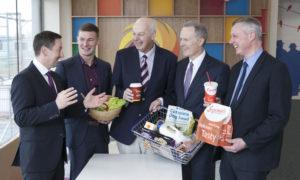 Maxol has announced a further planned expansion of its network in the Greater Dublin area, after signing an asset purchase agreement with Topaz to acquire three of its service stations.
The stations are located on the Naas Road, Co Kildare, Greenhills Road, Dublin 12 and the junction of the Naas Road and the Long Mile Road in Walkinstown, Dublin 12. All three stations were formerly owned by Esso. A mergers notification has been submitted to the Competition and Consumer Protection Commission (CCPC).
The news comes just days after the forecourt convenience retailer announced the addition of a number of Irish food franchises at its new Maxol M3 Mulhuddart Services in North West Dublin, having welcomed healthy food company Chopped to its first ever forecourt experience. The company also unveiled its first Insomnia café at the brand new site, along with Irish brand Supermacs and the company's own fresh food brand Moreish Fresh Food.
Commenting on the expansion plans, incoming Group Chief Executive Brian Donaldson said: "Maxol is delighted to have the opportunity to add these three quality locations to its ever-expanding service station network. We have been keen to strengthen our presence in the Leinster area and these three stations will allow Maxol to serve a great many new customers in Ireland's most densely populated region.
"We look forward to the outcome of the current CCPC process and to making further announcements on our expansion plans across Ireland in the very near future."