NUI Galway Appoints New Director of Research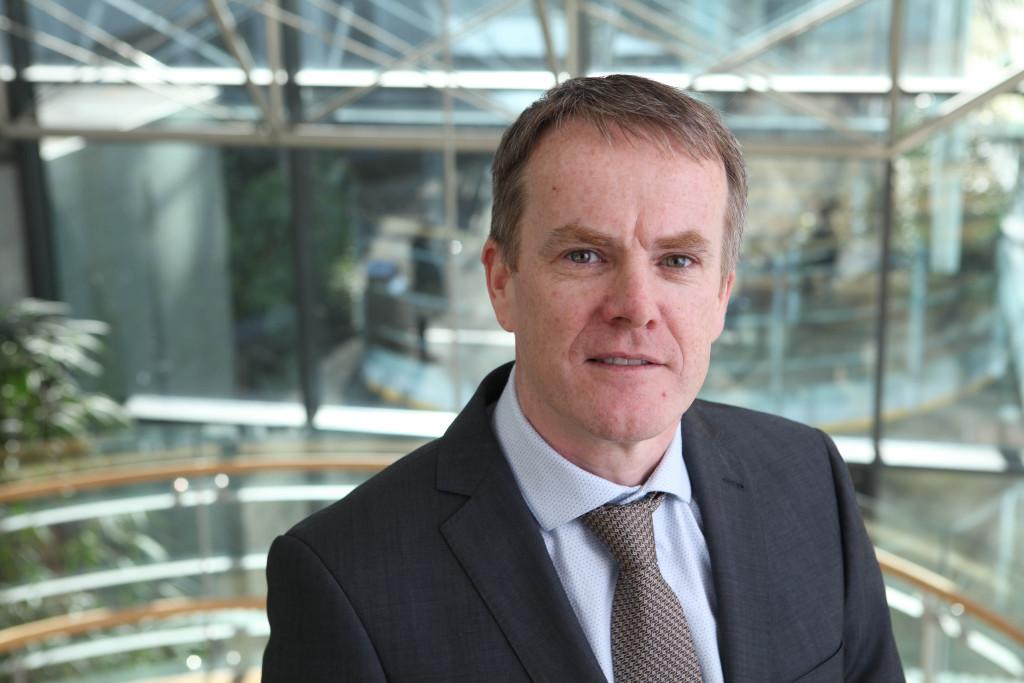 NUI Galway is delighted to announce the appointment of Aengus Parsons as Director of Research. The newly established post underpins NUI Galway's commitment to further strengthening its position as a research-led university with global reach.

As Director of Research Mr Parsons will play a leading role in the strategic management of research activity, aligned with the University's ambition to develop internationally-recognised research excellence in a range of priority areas and to supporting the delivery of NUI Galway's Strategic Plan in becoming a Top 200 ranked research-led university by 2020.
Commenting on the appointment, President of NUI Galway, Dr Jim Browne said: "Research and research-led teaching is central to our mission at NUI Galway. With the appointment of Aengus Parsons as Director of Research, we will further build our research capability, enabling us to achieve the ambitious goals we have set ourselves. I'm delighted to welcome Aengus to NUI Galway and I look forward to working with him to ensure the continued development of NUI Galway's research profile and outputs."
Crucial to the support of NUI Galway's Research and Innovation strategy is the attraction and retention of emerging research leaders across the University's key research priority areas, building on significant international successes to date. The priority research areas include: Biomedical Science and Engineering; Marine, Energy and Environmental Science; Data Analytics and Informatics; Physical and Computational Sciences; Applied Public Policy and Social Sciences, Digital Humanities and Drama and Theatre Studies.
NUI Galway has significantly grown its research activity and output over the last ten years. The identification of priority research areas and subsequent investments in these areas have enabled the University to develop a critical mass of expertise which has led to significant success in securing competitive research grants, nationally and internationally. Currently home to two national Science Foundation Ireland Research Centres, in Medical Device Technologies and Data Analytics, NUI Galway has had to date the highest Irish university success rate in the European Horizon 2020 research funding programme.
Congratulating Aengus Parsons on his appointment, the Vice President for Research at NUI Galway, Professor Lokesh Joshi said: "The University has set out a bold and ambitious target to support research excellence. We are very pleased to announce that Aengus Parsons has joined the leadership team to strengthen our research performance and develop its reputation. We welcome Aengus and under his stewardship, we look forward to ensuring that our strengths and achievements in research will continue to grow and prosper."
Originally from Spiddal in Co. Galway, Aengus Parsons joins NUI Galway following 10 years with the Marine Institute, where, most recently, he held the role of Director of Marine Environment and Food Safety Services. He led a team of scientific and support staff in the delivery to Government of technical and advisory services, backed up by multi-disciplinary research.
Previously, as the Research Programme Manager at the Marine Institute, his focus was on implementation of the national marine research strategy and management of the national marine research funding programme. He brings to NUI Galway a broad knowledge of the research policy and funding landscape.
Prior to this, Aengus worked for 10 years as a marine consultant, undertaking work for both public and private sector clients, and also spent time in an international research environment.
Aengus undertook his undergraduate studies in Science in GMIT and postgraduate studies in Environmental Science at Trinity College Dublin.
Speaking of his appointment, Aengus Parsons said: "I am delighted to be given the opportunity to play a leading role in the development of high-performance research activity within NUI Galway. Our ambition is to produce research that is recognised as excellent, transformative, and relevant to societal and economic needs, while continuing to attract and retain the highest-calibre of emerging researchers in the University's priority research areas."
Mr Parsons added, "I am especially looking forward to working with the University's researchers to enable them to produce research outcomes at the highest level on both the international and national stage. With the commitment and leadership shown by the University, I am confident that NUI Galway will consolidate its position as one of the leading research centres on the island of Ireland and become a central player in both Irish and international research."
About NUI Galway
NUI Galway* is one of Ireland's foremost centres of academic excellence. Over 17,000 students undertake an extensive range of studies at the University, which is renowned for the quality of its graduates.
NUI Galway is a research-led University with internationally recognised expertise in areas including Biomedical Science and Engineering, Web Science, Human Rights, Marine Science, Energy and Environmental Science, Applied Social Sciences and Public Policy, and Humanities, in particular literature, theatre and Irish Studies.
For more information visit www.nuigalway.ie or view all NUI Galway news here.