Chamber welcomes Shannon Group plc appointment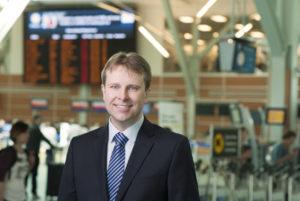 Shannon Chamber has welcomed the appointment of Matthew Thomas as the new chief executive of the Shannon Group plc.
With 20 years' experience in the industry, Thomas (43) joins the Shannon Group from the Vantage Airport Group, where he is currently Chief Commercial Officer.
Vantage is a global operator, developer and investor in airports, based in Vancouver, Canada. Thomas, who has worked with the Vantage Airport Group since 2008, has been involved in the majority of its 30 airport projects across four continents, including 19 significant airport transitions.
Speaking in Shannon, chamber president Julie Dickerson said: "Following last week's news of record achievements by the Group and its expansive future plans, the appointment of a new chief executive with an accomplished background in airport strategic development paves the way for even greater achievements in the years ahead.
"With a career marked by successful deliverables in transformational projects, terminal redevelopment, airline and route development, Mr Thomas' appointment will enable Shannon to build on the remarkable gains attained since 2013.
"The Shannon Group's 2015 results speak for themselves. The Group's portfolio of products is a key infrastructural asset for the Shannon Region and Shannon Chamber looks forward to welcoming Matthew Thomas to Shannon and to contributing in every way possible to ensure that the Shannon Group's ambitious targets are attained."