Cork's tech network appoints new chair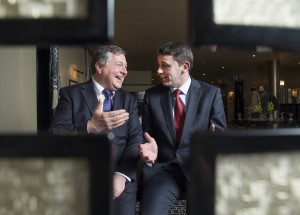 The CEIA, Cork's Technology Network, has appointed Sean Moran as Chair of the non-for-profit association at its 31st annual general. The CEIA was founded in 1984 and represents high tech companies in the Cork region, providing a platform for member companies within IT, electronic and engineering sectors.
Speaking following his appointment, Moran who is vice-president of operations and plant manager at Sanmina said: "I am delighted to have been appointed as Chairman of the CEIA. The CEIA is a very significant association for the high tech industry in the region, as it hosts a number of business events annually for its members, sharing best practice in innovation, engineering, market development and manufacturing. It facilitates a networking opportunity to make new business contacts, address common issues while liaising with local government agencies and higher education institutions on industry training and graduate profiles required to ensure the sustained growth and competitiveness of its members' organisations."
The CEIA not only provides on-going learning and transfer of knowledge for ICT professionals and engineers but also for students with an interest in working in ICT, Science and Engineering through their education and schools programme. STEM Programmes run by the CEIA, with support from SFI and its industry members include a robotics competition for schools, the 'HighTechElec' transition year work experience programme and free maths tutorials for Leaving Cert HL and the CEIA-ESERO Ireland CanSat Competition to name a few."
The CEIA works in conjunction with the IDA, Enterprise Ireland, Cork Education & Training Board, SFI, CIT and UCC, to ensure a sophisticated technological infrastructure is in place to enable industry to grow and prosper.