Female Business Leaders Ready to Roll on IWD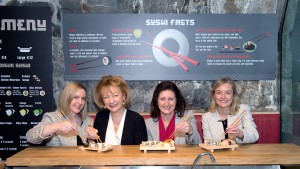 Advice and insights from some of the sharpest female minds in Irish business will be served up at an event being held in Dublin next week to celebrate International Women's Day (IWD).
The 'Celebration, Connection and Inspiration for Women in Business in Dublin' event will take place in the Davenport Hotel on the evening of Tuesday March 8th. More than 250 people are expected to attend the event, which is being organised by Dublin Chamber of Commerce in association with the Women in Business networks from Fingal, Dublin City and Dun Laoghaire-Rathdown LEOs, and professional services company Deloitte.
Providing the keynote address on the night will be Julie O'Neill, Strategic Management Consultant at Join the Dots, former Secretary General of the Department of Transport and board member at Ryanair.
Other speakers will include Ciara Troy, founder of sushi producer, Lisa Smith, founder of mentoring company EngageSmith, Edel Creely, Group Managing Director at IT support solutions provider Trilogy Technologies and Karen Frawley, Partner in professional services and consulting firm Deloitte.
According to Dublin Chamber CEO Gina Quin: "This is the seventh consecutive year in which we've ran an event to coincide with International Women's Day. The aim of the event is to showcase, promote and celebrate some of the excellent female entrepreneurs and business women that we have in Ireland. The event seems to get bigger each year, which is recognition of the interest amongst women in setting up their own businesses and in progressing up the career ladder."