Healthy Business Growth for Chopped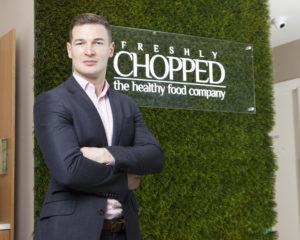 Brian Lee, co-founder and Managing Director of food chain Chopped, has announced the franchise will be opening its newest store in the Rathmines area.This latest addition to the Chopped franchise follows new outlets in Maxol, Mulhuddart and Grafton Street and will soon be joined by other confirmed Chopped stores in Tallaght and Sandyford, with more locations to be announced soon. The new store will create 20 new jobs while the Chopped expansion plan hopes to raise the number of Chopped employees to 320 by the end of 2016.
Chopped, offers a fresh food experience with unique salad bowls, wraps and sandwiches. Founded in 2012 by Dublin entrepreneurs Brian Lee and Andy Chen, the impressive growth of Chopped over the past year has recently seen the company named Ireland's "Best Emerging Franchise" at the Irish Franchise Awards in April and Brian Lee named as a finalist in the "Best Emerging Entrepreneurs" category at the 2016 EY Entrepreneur of the Year Awards.
Speaking at the opening of the Rathmines store, Brian Lee spoke about the positive addition the new Chopped location would be to the nearby community, including daily commuters and soldiers stationed in the nearby barracks. He said; "It's a great location in the heart of Rathmines and will serve as yet another proof point of the demand for healthy food in Ireland. This new chopped will serve everyone in Rathmines, from people commuting to work, to soldiers in the nearby army barracks to students in the neighbouring school."
Lee highlighted the need for healthy fast food establishments in a location like this one, where nearby schools can benefit from healthier lunch options. He said; "We've seen parents across the country campaigning against fast food near schools and for better lunch options for students so we're delighted to open our store so close to St Mary's Secondary school. Chopped Rathmines will provide the students with healthy fast food that's not a dodgy chicken roll! Eating well is vital for young people and we're confident our healthy options will go down very well with the local students and their parents."
Mark Tracey, new franchisee of Chopped Rathmines said; "We're looking forward to delivering a great experience for everyone who comes to Chopped Rathmines. Healthy eating is the future and Chopped is leading this revolution. Chopped provides healthy meal options and we're looking forward to providing everyone who comes through our doors with the ultimate Chopped experience of high quality, healthy food."