Metabolomic Diagnostics secures €1.6M investment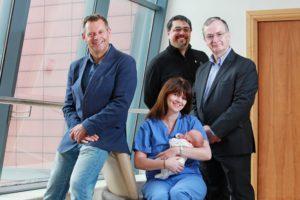 Irish biotech company, Metabolomic Diagnostics, has secured an additional €1.6 million from investors to help complete PrePsia™, its new screening test for pre-eclampsia in first time pregnant mothers. This latest funding is supported by existing investors, SOSventures, AIB Seed Capital Fund and Enterprise Ireland as well as a number of private investors.
Affecting almost 7.5 million pregnancies per year, pre-eclampsia is the single greatest cause of premature births and is still responsible for the deaths of more than 75,000 mothers and half a million babies each year. The PrePsia™ blood test will be able to detect the risk of pre-eclampsia early in pregnancy and will ultimately save the lives of women and their babies through personalised medical interventions.
Metabolomic Diagnostics plans to commercialise the technology which is based on research by Prof. Louise Kenny, Director at the INFANT Research Centre in UCC, on metabolomic biomarkers during pregnancy.
"Securing this new funding will allow Metabolomic Diagnostics to complete the development of PrePsia™ with a view to bringing the product to market in 2017", said Charles Garvey, CEO Metabolomic Diagnostics.
The company has also announced that Dr. Jim Walsh, who currently serves as Executive Director of Trinity Biotech, has joined their board. Over the years Dr. Walsh has been responsible for making several high profile investments in diagnostic and medical device companies.
Speaking yesterday, Dr. Walsh said: "In the modern world, there is no excuse for having a medical complication that can result in the deaths of otherwise healthy mothers and their unborn babies. The technology being developed by Metabolomic Diagnostics is of enormous global significance and represents a substantial market opportunity to help combat pre-eclampsia".