Teamwork's Mackey and Coppinger win Entrepreneur of the Year at EY awards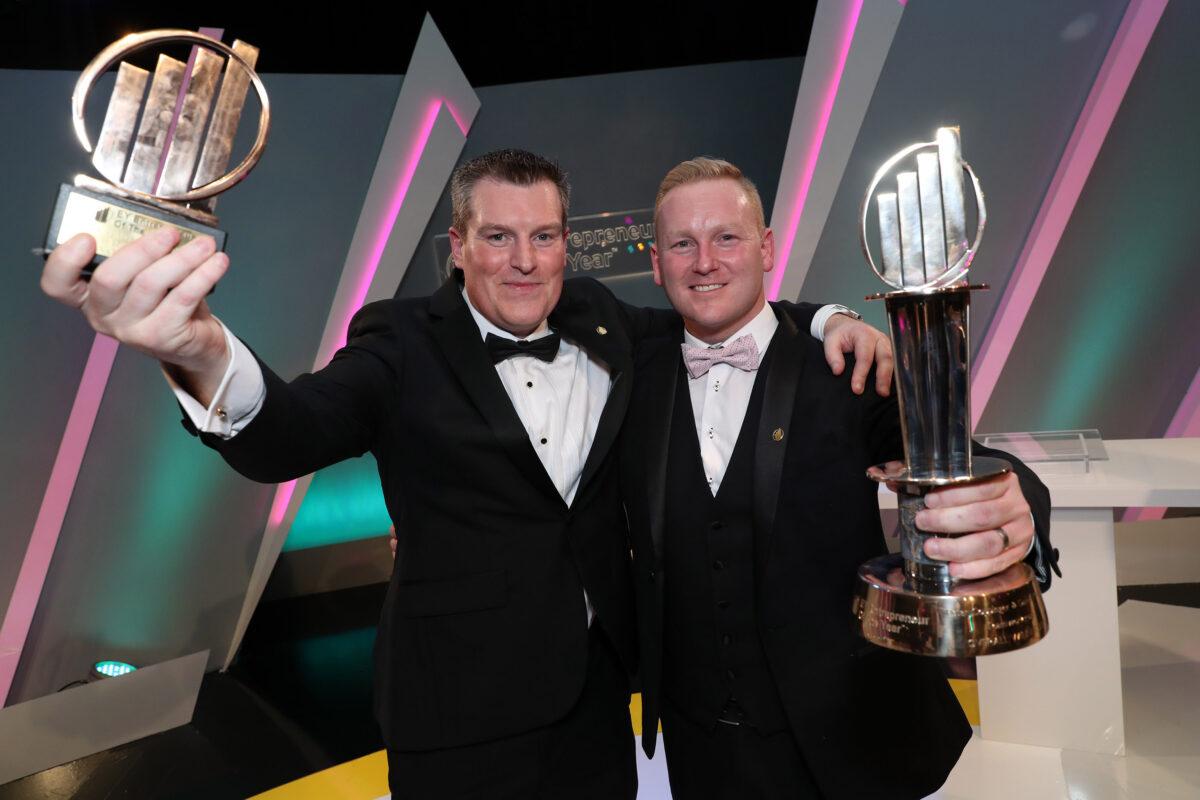 Daniel Mackey and Peter Coppinger, co-founders of Cork-based technology company Teamwork, have been named winners of the EY Entrepreneur Of The Year award for 2018.
Developers Coppinger and Mackey (pictured above) founded Teamwork.com, a Software as a Service (SaaS) company with clients including Disney, Spotify and Netflix., 11 years ago.
Headquartered in Cork city, Teamwork has 22,000 paying customers across 183 countries, employs 200 people and has a remote workforce in 15 countries, with office locations in five of those.
Mackey and Coppinger were also were also named winners of the EY International Enepreneur Of The Year™ and will go on to participate at the World Entrepreneur Of The Year Awards in Monte Carlo, Monaco in June 2019.
Anne Heraty, Chairperson of the EY Entrepreneur Of The Year judging panel praised Coppinger and Mackey for their "ingenuity and innovation" while Kevin McLoughlin, Partner Lead for the EY Entrepreneur Of The Year Ireland said they are "shining examples for Ireland's young people to follow".
Bill Wolsey, founder of The Beannchor Group – the hospitality business which owns more than 35 hotels, pubs and restaurants – was named EY Industry Entrepreneur Of The Year at the annual awards gala which took place in Dublin on October 25th.
Meanwhile, Elaine Sullivan from Carrick Therapeutics – a biotechnology company working to develop transformative oncology medicines, focusing on the critical pathways that drive cancer progression and resistance – won the award for Emerging EY Entrepreneur Of The Year.
Each year EY presents a Special Award to individuals who have made a significant contribution to the island of Ireland through their entrepreneurial vision, innovation and commitment to excellence. This year, the prestigious honour was awarded to Sean O'Sullivan of SOSV.
The judging panel, which included previous EY Entrepreneur Of The Year winners evaluated all of the potential winners on a number of criteria, including: innovation; value creation; strategic direction; financial performance; national and global impact; and the entrepreneur's contribution to society and industry.
More than 1,500 business leaders from across the island of Ireland were in attendance at the awards gala, alongside guest of honour, Minister for Finance and Public Expenditure and Reform, Paschal Donohoe TD, to celebrate the achievements of the 24 finalists.
Speaking at the awards, Minister Donohoe said he was "delighted to acknowledge the contribution entrepreneurs make to the economy and to our society".
He added that small and medium sized enterprises are "the lifeblood of our economy" and revealed that the Government will launch a new Future Jobs programme in the New Year, "to support businesses in improving productivity and to ensure future skills needs are met in this ever changing world".