User Experience, Gaining Experience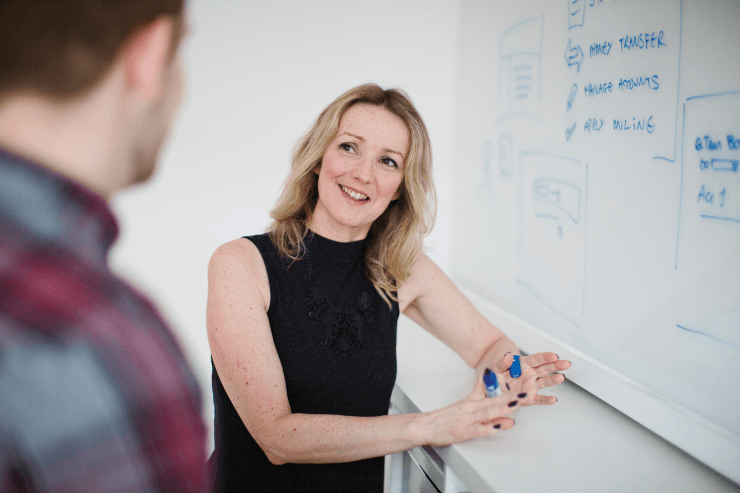 Fiona Murphy, co-founder and Director of Ireland's first user experience (UX) design agency Frontend, recognised the need for specialist design services for interactive technology back in the 1990s.
An industrial design graduate from the National College of Art and Design, Murphy completed a master's in interactive multimedia from the Royal College of Art in 1996. She had gone to college and was friends with Niall O'Sullivan, founder of web design and content company Nua. He asked her to run a media company for him, O'Sullivan Associates, where she gained further insights.
"Very early on I did some research into different methodologies and realised research could be a very important component in terms of informing design for technology," she says. "This led to a strong user centric design process, which is fundamentally similar to what we still do today at Frontend."
As an early entrant to the UX design space in 1998, Frontend was quickly able to get clients on a global level.
"At that time there were not many agencies focused on UX design globally, and we were one of the fi rst in Europe. We attracted a lot of blue-chip clients, which recognised that UX design really had an impact on their bottom line. Blue-chip clients are really important to us to this day and at least 50% of our work is international, but we always like working with small innovative companies."
From the outset, Frontend has been active in various sectors, including healthcare, finance and software development.
"We have always been focused on enabling product and development teams to produce better products. Now, a lot of the solutions we provide are more strategic," says Murphy. "We are also seeing changes in expectations in terms of user behaviours, which have evolved considerably. Because of this, we have integrated behavioural economics and nudge theory into our design solutions. It's all about how design can solve business and social issues."
A recent example of this was Frontend's work with Standard Life in redesigning digital touch points for customers and financial advisors, looking at supporting key tasks and how to help end-customers to save successfully for retirement.
There has been huge growth in the area of connected health for Frontend, largely driven by pharmaceutical companies' concerns around medical adherence. "For pharmaceutical companies, digital solutions can help to facilitate higher levels of patient engagement with their treatment as well as providing data to track patients' progress," explains Murphy.
One of the projects Frontend has worked on in this area was with Merck Serono on a digital solution to encourage children and young adults with growth hormone deficiency to engage more with their treatment over a long period.
The in-house trend
Over the past five years UX design has become ubiquitous, in Murphy's view. Companies large and small are recognising the importance of UX and how it improves sales, brand perception and operations. Increasingly, Frontend is going into organisations and supporting them in building their in-house UX design capability.
"We provide them with framework design systems they can work off, help them with research and
building internal teams. We are no longer just providers of design and research services, but enablers of UX design within organisations," says Murphy.
There are currently about seven dedicated UX design agencies in Ireland. Each and Other was one of the first to be established in the market after Frontend. John Wood worked there from 2014 and three years ago decided to move to an in-house role.
"After 14 years as a consultant, I believe that is where most of the opportunity for personal growth and interesting work currently lies," he says.
Currently managing a team of 40 designers and researchers in a company working on connected vehicle technologies, Wood was self taught in UX design.
"I learned a lot of my user research and design skills as a consultant working on a wide range of mobile and desktop products in every imaginable sector – banking, public services, telecoms and now connected vehicles," he says. "As recently as ten years ago, consulting was the only choice for anyone who wanted a career in UX in Ireland. There were few in-house teams and a very poor understanding of UX design among businesses, so all of this work was outsourced to agencies."
The move to in-house UX teams is driven by the recognition that UX is a key differentiator for many products, according to Wood.
"If you are one of a half-dozen products that have feature parity and similar pricing, then a better user experience is a competitive advantage," he notes. "How quickly can your customers get to active use of the product? How well does the product meet the user's goals? Doing these things well requires a deep understanding of the customer and the ability to turn those insights into working designs, which is what a good UX team delivers."
A growing network
When Wood got into this space about 20 years ago, he knew everyone working in UX in Ireland at the time, or at least knew of them.
"These days every conference or meet-up has hundreds of attendees and there is new talent joining the industry all the time," he says. "The quality of the talent in Ireland is impressive too – I think there are some truly world-class people working in UX in Ireland today. The colleges have started to produce good graduates from new UX-focussed courses and The UX Design Institute is helping people to switch career or up-skill. More importantly, the tech companies in Ireland are honing that talent through real work on some great products."
Galway's only UX agency, The UX Studio, runs UX Network Galway once a month. It has grown from five or ten people attending last year to about 30 every month and a total of 218 members.
"So many people are joining UX Network Galway to see what is happening. A lot of these people are already working as product designers or software developers and want to find out how to convince their employers to invest in UX design," says Sara Gilligan, Head of Business Development at The UX Studio. "These people are sick of having three to four iterations of their designs because their organisations are not talking to users about functionality and specs."
Founded two years ago by Rachel O'Donnell, The UX Studio specialises in building digital products or digital interfaces by focusing on both user needs and the business objectives of its clients.
"We ask our clients what they think their challenges are in relation to their business objectives; then we talk to users directly and tell our clients where the real problems lie. It is a new conversation and a big shift in mindset," says Gilligan.
A major coup for this emerging company has been to work on a human-machine interface project for medtech giant Medtronic, which helped to standardise its workflow and processes. In the clean rooms at its Galway facility, there are multiple machines with different interfaces.
"Having numerous interfaces from different vendors was not intuitive to the users' needs. This was getting in the way of Medtronic's two core goals – that of reducing downtime and maintaining quality," says O'Donnell. "We spoke to operators, engineers, R&D people as well as maintenance staff actually doing the job on a day-to-day basis and defined a set of requirements."
The team highlighted to Medtronic management that they needed to consider colour blindness, for example, and got around this problem by using icons and words instead of colours. The UX Studio's proof of concept with Medtronic has led to referrals in the med-tech sector.
UX design started on consumer products and applications, but enterprise UX – such as The UX Studio's work with Medtronic – is now becoming a niche within the industry, according to Colman Walsh, CEO and founder, The UX Design Institute.
Established in 2013 as UX Training, The UX Design Institute launched its six-month online professional diploma in UX Design last June. It is a globally recognised qualification. So far 577 students have enrolled, 30% of whom are from Ireland.
"Enterprises are realising that employees using B2B software have high expectations and want the applications they use inside the organisation to be as well designed as Google and Facebook," says Walsh.
[simple-author-box]