Accountancy firms Russell Brennan Keane and PGL in merger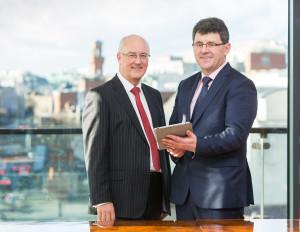 Chartered accountants Russell Brennan Keane has merged with PGL, a long established accountancy practice in Clonskeagh, Dublin 14, with effect from March 1st 2016.
The combined entities will have revenue of in excess of €12.5 million, a team of 17 partners with 170 professionals and support staff across four offices, consolidating Russell Brennan Keane's position as a leading accountancy and advisory firm. The merged firm will trade as Russell Brennan Keane.
David Gleeson, Managing Partner, said: "We are extremely proud of the footprint we have developed in Dublin. This new chapter is the latest part of a growth strategy as the firm continues to combine talent and resources to address the needs of our increasingly diverse client base. This merger with PGL enables us to significantly increase our presence in the Dublin market and we are looking forward to providing an enhanced service offering to PGL clients."
Declan Lernihan, Managing Partner at PGL, added: "This merger gives us access to significant, well regarded and widespread professional experience, offering clients audit, tax and accounting services in addition to corporate finance; HR support; and IT consultancy services and gives access to a wider geographical spread in Ireland through offices in Athlone and Roscommon and worldwide through the Leading Edge Alliance."