DETAILS OF GRANT THORNTON CORPORATE 5K TEAM CHALLENGE ANNOUNCED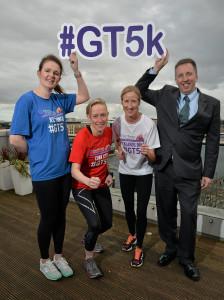 Business advisors Grant Thornton and Athletics Ireland have announced the dates for the Grant Thornton Corporate 5k Team Challenge series for 2016.
The locations and dates are the National Sports Campus in Fingal on Thursday June 9th and The Mall, Cork City on Wednesday June 29th, with the flagship event taking place in the Dublin Docklands on Tuesday September 13th. The Corporate Challenge is organised by the national governing body Athletics Ireland whose mission is to support and develop the athletes of Ireland of all ages, disciplines and abilities.
Aimed at encouraging social running amongst the business community in Dublin and Cork, the event welcomes both seasoned runners as well as beginners. Each run will be a team event and a minimum of four participants will enter with team members' times combined to determine the winner.
Paul McCann, Managing Partner with Grant Thornton said: "The Corporate Challenge is a great opportunity to build team spirit and to create a sense of healthy competition. We are delighted to partner once again with Athletics Ireland and to support the work that they do to promote fitness and making a difference to young promising athletes. Now in its fifth year this event goes from strength to strength with more people participating. The Docklands run last September was a sell-out with over 5,000 runners from 139 different companies."